I cannot tell you how excited I am to share this recipe with you all! Melon pan is one of my favorite things — I first discovered it at an Asian supermarket and it was delicious. The one I got was pandan flavored and had a lovely green color, so I'll tell you how to add that after I give you the basic recipe, which is a sweet vanilla flavor.
Melon pan is not made with melons or melon flavored. It has melon in its name because the pattern of the finished product is reminiscent of a melon. Personally, I think it looks a little more like a pineapple, but it doesn't matter.
What matters is the mouth-watering, beautiful snack that this is. Melon pan originates from Japan and is a semi-sweet and fluffy bread covered in a layer of sugar cookie dough. It is a bit tricky to make and my first few attempts were dense and flat, so make sure you have the appropriate yeast and treat the dough like a finicky baby. As long as you have good yeast and a warm place to prove your dough, you should be fine, but if you're looking for a sweet, doughy dessert that is simpler, try Sfinci Sicilian fried dough.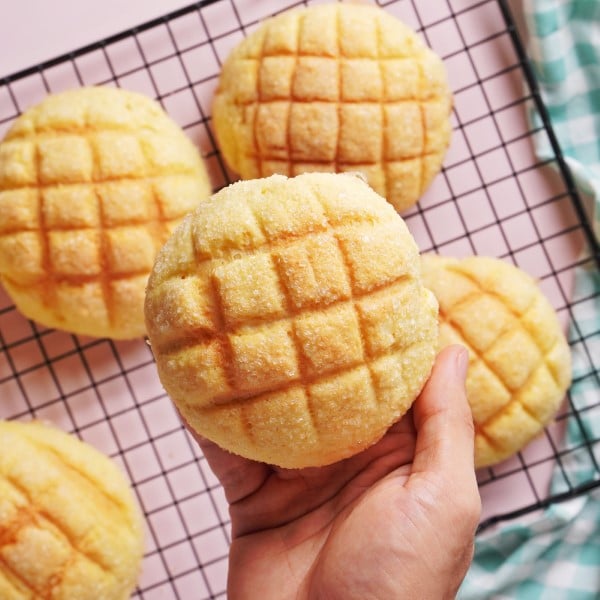 Ingredients
For the bread:
1 ½

tbsp

butter

3

tbsp

milk

1 ¼

tsp

dry yeast

3

tbsp

sugar

1 ¾

cups

bread flour

½

tsp

salt

1

egg
For the cookie:
4

tbsp

butter

4

tbsp

sugar

½

tsp

vanilla extract

1

egg

1

cup

flour

1

tsp

baking powder

¼

tsp

salt

¼

cup

course sugar
Instructions
All ingredients ready? Let's begin!

Set all the butter out so it can soften to room temperature.
To make the bread:
In a small bowl, add the milk. Put it in the microwave for 30 seconds or until it's warm.

Add the yeast and sugar then stir to mix. Let sit for 5 minutes.

In the bowl of a stand mixer, add the flour and salt. Whisk to combine.

After the yeast mixture is bubbly on top, add it to the dry ingredients along with the egg. Use the dough hook attachment to mix.

Once the ingredients have molded into a soft dough, turn up the speed on your mixer just a bit and keep it going for 10 minutes. The dough should become smooth, sturdy, and stretchy.

Chop the butter into small pieces and add to the bowl of the mixer. Keep kneading for another 10 minutes.

Grease a bowl and transfer the dough to it before covering it with a kitchen towel. Put the bowl in a warm spot to rise for at least 1 hour. It should have doubled in size.
To make the cookie dough:
In the bowl of a stand mixer, add the butter and sugar. Use the paddle attachment and beat until smooth and fluffy.

Add the vanilla and egg. Beat until incorporated.

In a separate bowl, combine the flour, baking powder, and salt. Whisk together.

Add the dry ingredients to the wet and beat until just mixed. Use a spatula to scrape down the sides of the bowl as needed.

Split the cookie dough into 8 equal portions and place on a baking tray covered with parchment paper. Put the cookie dough in the fridge.
To shape:
Lightly flour your counter or other clean surface. Turn the bread dough onto the counter and knead a few times.

Divide the dough into 8 even portions and knead each piece to roll it into a ball.

Place the dough balls to the side and cover with a towel. Let rest for 15 minutes.

Reflour your surface and place the cookie dough onto it.

Shape each cookie dough portion into a ball then roll each out into a thin circle.

Take the bread dough balls and place one in the middle of the cookie dough circles with the seam facing up.

Fold the cookie dough around the bread dough and pinch the ends together to cover the bread.

Roll the top of the balls in course sugar then place on a parchment lined baking tray, leaving space between.

Use a sharp knife to score the top of the balls with a crisscross pattern, about 3 slices each direction.

Cover with a cloth and leave in a warm spot for about an hour or until doubled in size.

Preheat the oven to 355F and bake for 15 minutes. They should come out golden and crisp on the outside.

Move to a wire rack to cool before serving.
Video
Nutrition
Calories:
253
kcal
|
Carbohydrates:
50
g
|
Protein:
8
g
|
Fat:
2
g
|
Saturated Fat:
1
g
|
Polyunsaturated Fat:
1
g
|
Monounsaturated Fat:
1
g
|
Trans Fat:
1
g
|
Cholesterol:
43
mg
|
Sodium:
302
mg
|
Potassium:
100
mg
|
Fiber:
2
g
|
Sugar:
18
g
|
Vitamin A:
86
IU
|
Vitamin C:
1
mg
|
Calcium:
62
mg
|
Iron:
1
mg
Notes & Tips
Melon pan can be stored in an air-tight container at room temperature for a week. You can also freeze them for several months.
Because this recipe calls for so much kneading, it is best to have a stand mixer. If you don't have one but still really want to make this recipe, it is possible, but you will need a lot of arm strength!
If your kitchen isn't warm enough for your bread to rise, your oven might have an appropriate setting. If you turn the heat to about 100F, depending on your oven, you can prove the dough there both times. Make sure you use an oven proof bowl the first time though!
Pandan Version
To make a pandan flavored version instead of plain vanilla, you will need pandan extract/essence. Green food coloring is optional; the pandan alone won't make it green. Substitute the vanilla for pandan extract in the cookie dough and add a couple drops of green food coloring. Add ½ tsp of pandan to the bread dough as well, along with a few drops of green food coloring.
Pandan flavor is quite mild, but lovely and refreshing. It comes from the leaves of the pandan plant and has a distinct smell that shares similarities with jasmine rice and smells a little bit like grass. Pandan is common in South Asia and is thought to have originated in Malaysia or Indonesia.
---
Recent Recipes