Simple Mexican Quiche With Chorizo
Mexican quiche with chorizo is an easy recipe to whip up when you're craving a little southwestern flavor. Chorizo is a type of pork sausage that gets its rich color and intense smoky flavor from dried and smoked red peppers. This quiche is sure to be a hit at your next brunch.
Let's dig into the recipe.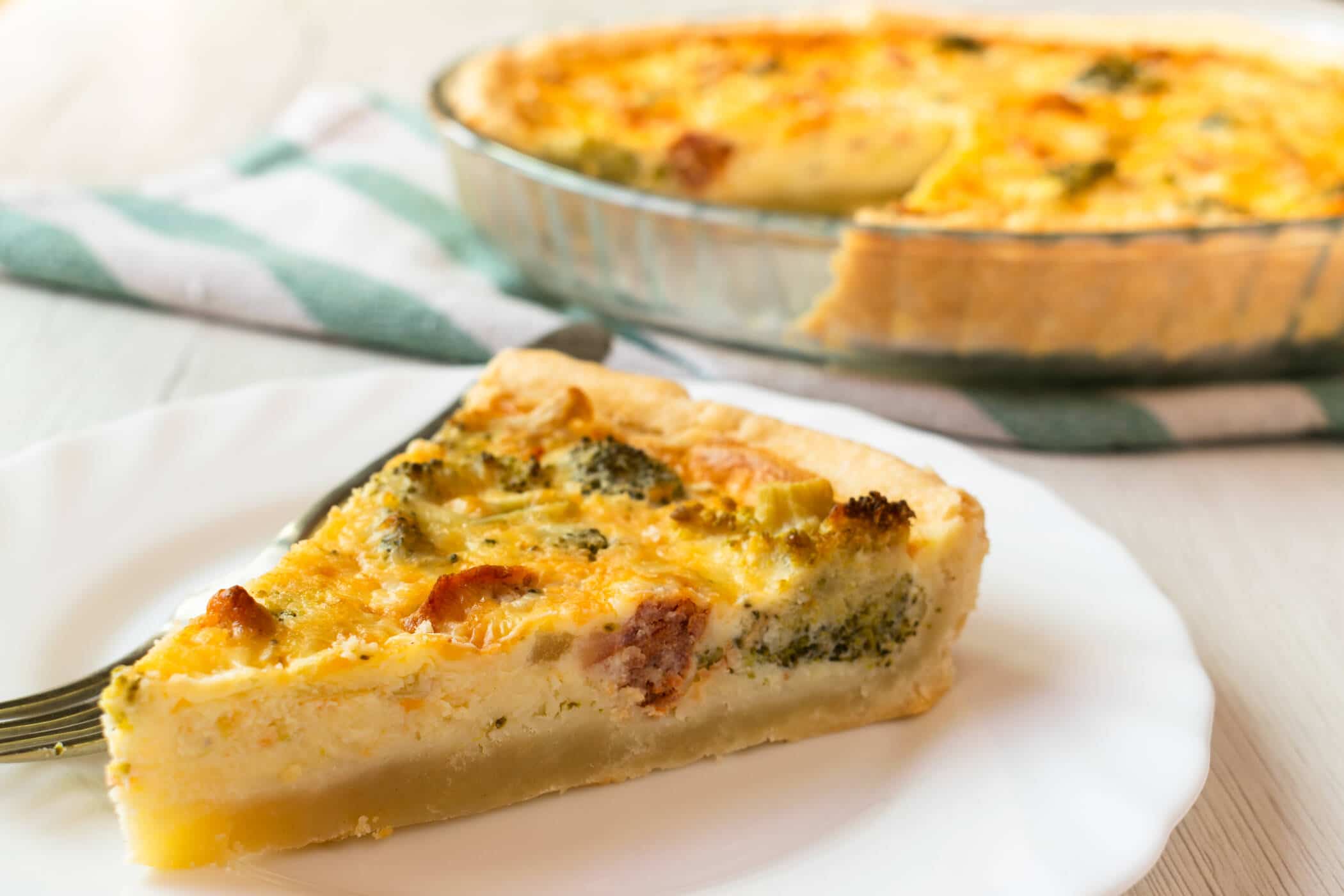 Ingredients
For the quiche filling:
1 1/2

cup

cooked broccoli

1/2

cup

cooked chorizo

Splash of vegetable oil for frying

1 1/2

cup

shredded Jarlsberg cheese

or a cheese substitute

3

large eggs

1

cup

heavy cream

1/2

small yellow onion

grated

1/8

teaspoon

nutmeg

1/4

teaspoon

pepper

1/2

teaspoon

salt
For the crust (if making your own):
2 1/2

cups

all-purpose flour

gluten-free works too

1

tablespoon

white sugar

1

teaspoon

salt

1/2

pound

unsalted cold butter

vegan butter works, this is about 2 sticks

1/4

cup

cold Crisco

1/3

cup

ice water
Instructions
For making the crust:
Combine flour, sugar, and salt in a large bowl.

Cut 2 sticks of butter into smaller chunks and add to the flour mixture. Use your hands or a pastry cutter to blend until the butter chunks are smaller.

Add the Crisco and combine using your hands. The mixture should now resemble coarse crumbs.

Add the ice water and use your hands to form the dough into a loose ball. It should be on the drier side.

Roll out the dough and fit it into the pie dish.
For making the quiche filling:
Preheat the oven to 350° Fahrenheit (176° Celsius)

Steam the broccoli until it's fully cooked. Set aside.

Heat a little vegetable oil in a skillet. Remove the casing from the chorizo and cook for about three minutes. It can be a bit liquidy.

Add all of the filling ingredients to a bowl. Whisk until fully incorporated.

Pour the mixture into the prepared pie dish with the crust in it.

Cook the quiche for 45-50 minutes or until the quiche is golden brown and the middle is set.
Video
Nutrition
Calories:
638
kcal
|
Carbohydrates:
34
g
|
Protein:
14
g
|
Fat:
50
g
|
Saturated Fat:
28
g
|
Polyunsaturated Fat:
4
g
|
Monounsaturated Fat:
12
g
|
Trans Fat:
2
g
|
Cholesterol:
183
mg
|
Sodium:
901
mg
|
Potassium:
155
mg
|
Fiber:
2
g
|
Sugar:
2
g
|
Vitamin A:
1518
IU
|
Vitamin C:
16
mg
|
Calcium:
203
mg
|
Iron:
2
mg
Notes & Tips
Quiche is such a versatile and easy dish to make. The total cooking time is one hour, but most of that is for the quiche baking in the oven.
Quiches typically rely on cream and milk as components of the filling, but you can make some substitutions if you are dairy free. If you want to make this dish vegetarian, you can simply leave out the chorizo and replace it with a smoky, plant-based sausage instead.
How to shop for Mexican quiche ingredients
Choosing Chorizo
The chiles, vinegar, and pork is what sets chorizo apart from regular sausage. It's used to spice up tacos, chilis, queso, and eggs. It's no wonder that chorizo is the star of the show in this quiche.
If you can't find chorizo at your local store, you can make your own! Rehydrate toasted, dried chiles, blend them with apple cider vinegar, and then mix this combination with some ground pork and let it sit.
Choosing Jarlsberg Cheese
This recipe calls for Jarlsberg cheese, which originated in Jarlsberg, Norway but is now also produced in the US and Ireland.
Jarlsberg cheese has a clean, rich flavor with slightly sweet and nutty undertones. You can find it at most grocery stores or online from a gourmet cheese supplier.
Side & Compliments
Quiche is a perfect centerpiece for brunch. Here are a few ideas for what to serve with it.
Eggs: serve them fried or scrambled.
Bacon: you can get regular bacon or a vegan alternative. There are plenty of vegan bacon brands out there that taste just like the real thing.
Fruit salad: fruit will soften the smoky flavor of the quiche. Serve a mix of strawberries, grapes, and blueberries for a classic fruit combination.
Storage
Mexican quiche with chorizo refrigerates and freezes beautifully.
To refrigerate, let the quiche cool after cooking and then cover with quiche with foil or plastic wrap before putting it in the fridge.
You have a few options for freezing it: wrap the quiche in aluminum foil, plastic freezer wrap, a heavy-duty freezer bag, or an airtight container.
To reheat the quiche, heat it in the oven for at least 10 minutes at 165°F (73°C). Reheating it in the oven is the best way to ensure the flavor is preserved, especially if it was frozen.
History
Mexican home cooking is very unique, full of natural flavor and rich in both taste and color. It actually hasn't changed that much in the past 2,000 years since the ancient Mayan civilization. The ancient Mayan diet centered around corn, but they also regularly incorporated meat into their dishes.
Pigs were introduced to the region by Spanish explorers, and the local natives quickly began raising them for their own uses. Pork quickly became a common ingredient in the cuisine of some tribes.
Common Questions
Can I use a store-bought pie crust?
Yes, this quiche works well with either a frozen crust or a fresh homemade one. You can even make the quiche without a crust!
Can I make the quiche ahead of time?
Yes, you can make the crust and filling separately ahead of time. Just pour the filling into the crust when you're ready to bake the quiche.
Can I use a milk substitute in the filling?
Yes, you can use your favorite nut or oat milk instead of dairy milk. You can also use non-dairy milk in place of the heavy cream.
What does Mexican quiche with chorizo taste like?
This quiche combines bold, smoky flavor with a creamy, cheesy taste. It's perfect for anyone who wants a meal that's spicy but not too spicy.
---
Recent Recipes