All About Drinks & Cocktails That Start With The Letter I
If the letter F was for all the French drinks then the letter I introduces the Irish and Italian cocktails. And when the Irish and Italian cocktails come out to play, so too does the whiskey and Amaretto. The I list has a few other unique drinks in store for you too. Take a look.
Icebreaker
The Icebreaker is a fruity tequila drink of unknown origins. But who doesn't love a fruity tequila drink? A perfect summertime sipper, the Icebreaker is quite literally an icy break from the heat. The Icebreaker is a spinoff of the classic Tequila Sunrise; in fact, the coloring of the two tasty cocktails is nearly the same. While the Tequila Sunrise is made with tequila, orange juice, and grenadine, the Icebreaker adds triple sec and substitutes grapefruit juice for the orange juice. This drink is made over ice and strained into a chilled collins glass and then garnished with an orange wheel.
Imperial
The Imperial is a twist on the classic gin martini. This drink is sophisticated with a bite and it pairs perfectly with a variety of dinner selections. Notably, an Imperial is simply a high-quality gin, dry vermouth, maraschino liqueur, and bitters. The ingredients of this drink are shaken or stirred in ice and strained into a chilled martini glass; finally, it's garnished with a lime twist.
Imperial Fizz
Fizz drinks are cocktails that are topped with a combination of soda and sugar that result in a unique fizzy sound effect. The Imperial Fizz, sometimes called a Whiskey Fizz, is a whiskey drink that's tall, refreshing, and easy to make. This is the perfect drink to add to your repertoire for when you need something light and fizzy. The Imperial Fizz is made with whiskey, lemon juice, sugar, and soda. This easy drink is served, as many whiskey drinks are, in a highball glass over ice and left ungarnished.
In & Out Martini
The In & Out Martini is a classic martini variation that creates a more dry effect on the palate. Though one might argue that the In & Out Martini is wasted dry vermouth, others argue that this Martini preparation creates the perfect balance of gin (or vodka, depending on your preference) and dry vermouth. To explain, the In & Out Martini calls for the mixologist to pour the dry vermouth into a shaker full of ice, swirl it around a bit (essentially coating the ice cubes in the dry vermouth), and dump it out. Once the excess dry vermouth has been dumped out, you continue with your standard Martini recipe. The In & Out Martini is strained into a chilled martini glass and garnished with your choice of olives or a lemon twist.
Indian Summer
Despite having uncertain roots, the Indian Summer cocktail is exactly the color you'd imagine the illustrious September summer to conjure. A beautifully rich orange hue, the Indian Summer is a fresh, fruity cocktail that's perfect for warm-weather drinking. The Indian Summer is made with scotch, simple syrup, lime juice, and muddled fresh clementines. The ingredients of this delightful beverage are shaken and poured over ice in a rocks glass.
Irish Cactus
Just as its name suggests, the Irish Cactus is a blend of Irish and Mexican components. A simple rocks drink, the Irish Cactus is equal parts Irish cream and tequila served over ice in a rocks glass. The two seemingly incompatible ingredients are actually a match made in cocktail heaven. Simply stick in a sip stirrer, give it a little mix, and you're all set to cheer to whatever occasion places the drink in your hand.
Irish Car Bomb
If you're looking to get lit up, the Irish Car Bomb will surely do the trick. This drink, explicitly designed for wild times, is a shot-like drink of epic proportions. Essentially two drinks in one, the Irish Car Bomb was invented in the late 70s in Connecticut, far removed from Ireland in fact. This two-step drink is a shot served alongside a pint of beer; the shot contains equal parts of Irish cream and Irish whiskey while the pint glass contains a perfectly poured Guinness Stout. The recipient of the car bomb is to drop, yes drop, the entire shot, glass and all, into the pint glass and quickly pound the entire drink. If you've never done an Irish Car Bomb, beware that they're high in alcohol content and super filling.
Irish Coffee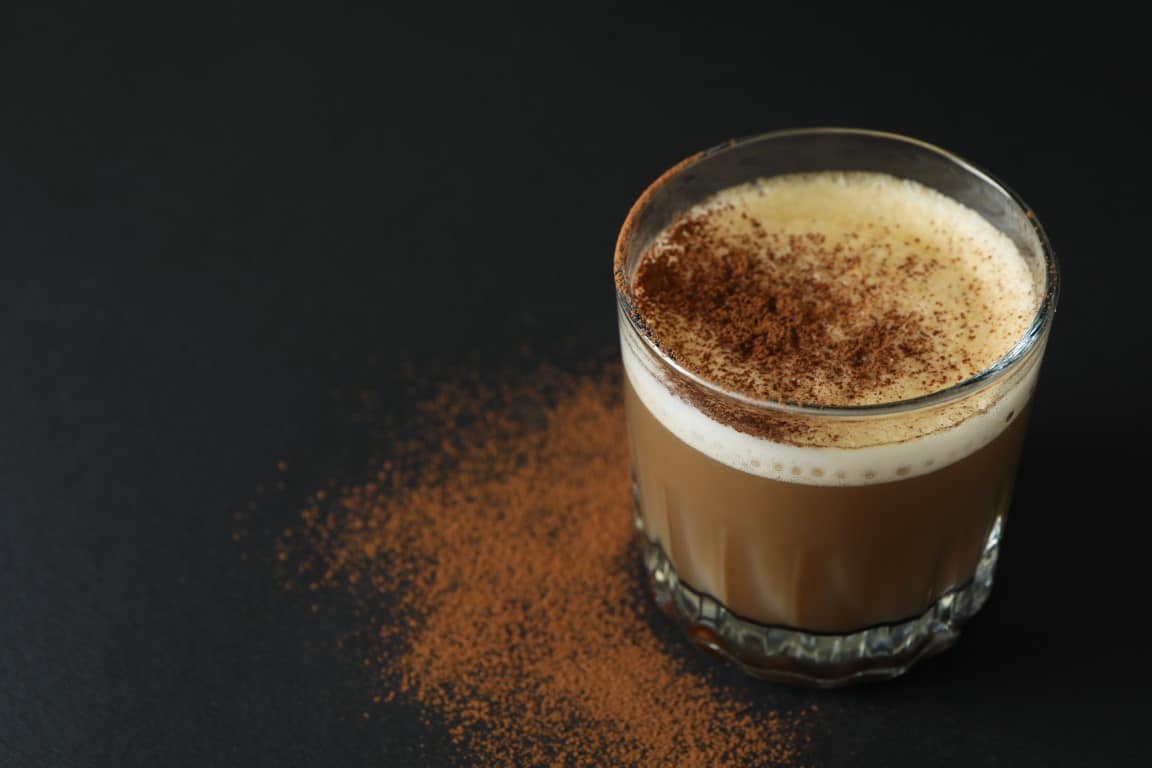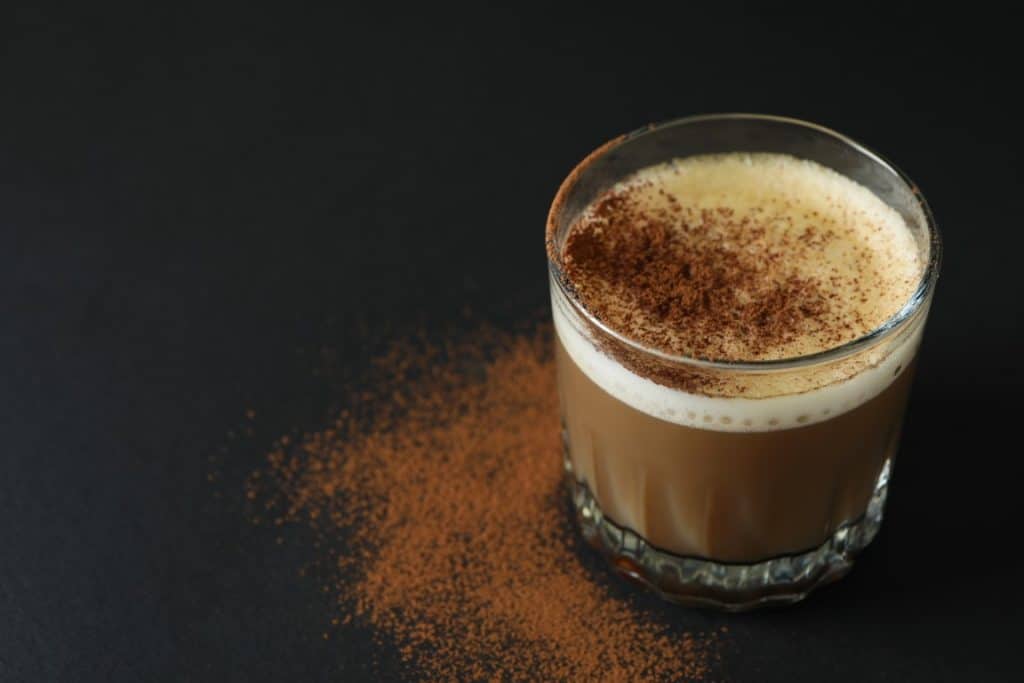 This old classic is a favorite after-dinner drink. Whether substituting dessert with an Irish Coffee or looking for something to warm you up on a cold day, this drink is your answer. The recipe for Irish Coffee was developed sometime in the 1940s in Limerick, Ireland. An Irish Coffee is served in a footed mug and is made with a nice Irish whiskey, hot coffee, and a bit of brown sugar. Lastly, the Irish Coffee is topped with a dollop of whipped cream; after all, what's a coffee drink without whipped cream?
Irish Encounter
The recipe for the Irish Encounter is one that was developed by the Pyrat Rum brand. One of just a handful of Irish-derived frozen drinks, the Irish Encounter is akin to a Pina Colada. This cocktail is an excellent choice for enjoying poolside; it's a creamy and fruity concoction that hides the liquor well, making it a deceiving drink. The Irish Encounter is a frozen blend of Irish cream, rum, fresh banana, and coconut milk. The blended drink is served in a tall glass and topped with whipped cream and toasted coconut flakes. Finally, the Irish Encounter is another tasty dessert beverage. Bottoms up!
Irish Martini
There are different Martini recipes dubbed the Irish Martini; some feature whiskey, an Irish mainstay, while some are green in honor of St. Patrick's Day. The most popular and refined Irish Martini, maintaining the true sophistication of a standard Martini, is this one. This Irish Martini is much like an In & Out Martini but instead of the dry vermouth being poured in and out, Irish whiskey is poured into a chilled martini glass, swirled around, and dumped out creating a whiskey rinse within the glass. Then you simply proceed to make a standard vodka Martini that's shaken in ice and strained into the whiskey-rinsed glass. Finally, the Irish Martini is garnished with a lemon twist.
Italian Breeze
The Italian Breeze is a sweet and fruity, punch-like drink with an Italian twist. Although the origins of this delightful cocktail are uncertain, one thing is certain: this drink is a must-try. If you're looking for something fun to make by the pitcher for your next barbecue, add this drink to your menu. Of note, the Italian Breeze is a mix of white rum, Amaretto, and both pineapple and cranberry juices. It's served over ice in a hurricane glass and garnished with a pineapple wedge.
Italian Coffee
Where there's an Irish Coffee, there must be an Italian Coffee, right? And if an Irish Coffee predictably calls for Irish whiskey, it stands to reason that Italian Coffee must be made with Amaretto. A sweet and comforting after-dinner drink, Italian Coffee is simply made with Amaretto and hot coffee. It's served, as most coffee drinks are, in a footed mug and topped with whipped cream and a dash of ground coriander.
Italian Job
A relatively new drink, the Italian Job was created in Paris, France in 2017. This cocktail is both delicate and complex while being a wonderful aperitif. The Italian Job has a beautiful amber color and is made with rum, Americano Bianco (an aromatic white wine), Aperol, bitters, and Byrrh (a type of aromatic red wine). The ingredients of this drink are stirred in ice and strained into a chilled coupe glass. Lastly, it's garnished with a vibrant orange wheel. Gathering the ingredients of the Italian job may prove to be a job indeed; they're certainly not the average bottles stocking your home bar.
Italian Kiss
Perfect for toasting a special occasion or enjoying brunch, the Italian Kiss is a bubbly champagne drink akin to the French Kiss. While the French Kiss calls for champagne and a touch of raspberry liqueur, the Italian Kiss substitutes almond liqueur for the raspberry liqueur. Additionally, the pièces de ré·sis·tance in the Italian Kiss is a splash of fruity pomegranate juice. The Italian Kiss is served in a champagne flute and garnished with an orange twist.
The Final Letter
The I list of cocktails showcases some ethnic specialties, a few hot coffee cocktails, Martinis aplenty, and a fair share of bubbly champagne drinks. Whether you're looking for the best drink to toast your next special occasion with or something warm to cozy up with, check out some of these delectable I drinks.
---
Recent Recipes