All About Drinks & Cocktails That Start With The Letter J
The J list of cocktails comes through with some of the wildest party drinks; from shots to bombs, some of these selections might actually get you bombed. Nevertheless, the J drinks also include some fun Collins variations as well as a few sophisticated Martini concoctions.
Jack & Coke
Similar to the Gin & Tonic, the Jack & Coke isn't anything more than the ingredients identified in this cocktail's name. However, much like the Gin & Tonic, the Jack & Coke is a much-loved, uber-popular cocktail combination. Although the origins of this cocktail aren't entirely clear, the first mention of the Jack & Coke in cocktail books was in the early 1900s. Simply, a Jack & Coke is a mix of Jack Daniel's Tennessee Whiskey and Coca-Cola. It's served over ice in a highball glass and can be garnished with a fresh lime squeeze.
Jack Rose
The history books credit a New Jersey bartender with the creation of the Jack Rose in 1905. The Jack Rose is a tart and fruity cocktail that was rather popular in the mid-20th century although presently it's a bit underrated. The Jack Rose is made with Applejack (an apple-flavored liqueur) or apple brandy, fresh lemon juice, and grenadine. The ingredients of this drink are shaken in ice and strained into a coupe glass. Finally, the Jack Rose is customarily garnished with a lemon twist. Named for a combination of the Applejack and the rosy hue created by the grenadine, the Jack Rose definitely deserves a comeback.
Jagerbomb
A spinoff of the ever-popular Irish Car Bomb, the Jagerbomb, is a drink with one agenda: to get you tipsy! Like the Irish Car Bomb, the Jager bomb is a single shot of Jagermeister that's dropped, shot glass and all, into a pint of the Red Bull energy drink. Once the shot hits bottom, you chug the entire pint glass in one fell swoop. The Jagerbomb gained popularity in the early 2000s and has been a mainstay at bars for partygoers ever since.
Jagertee
Unlike the Jagerbomb, the Jagertee is not associated with Jagermeister at all. Instead, a Jagertee is a cocktail of Austrian origins; it's a hot tea drink, much like the US's Hot Toddy. Perfect for a cold winter's day, the Jagertee is a blend of rum, hot black tea, both orange and lemon juices, and spices such as cinnamon and clove. The Jagertee is a popular cocktail in ski lodges in Austria and Germany, however, it's easy enough to make at home too. The Jagertee is traditionally served in a footed mug and garnished with a whole cinnamon stick.
Japanese Slipper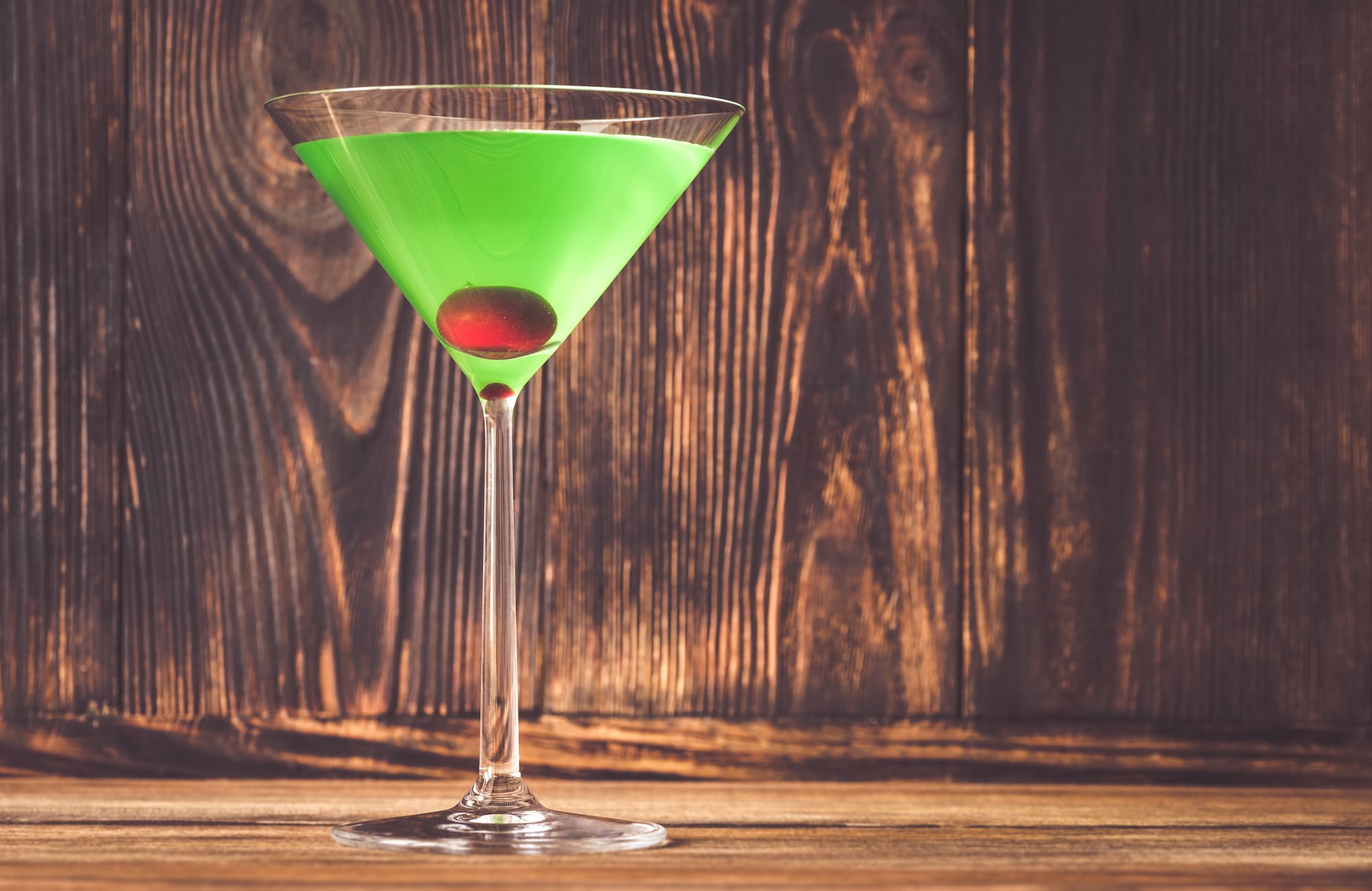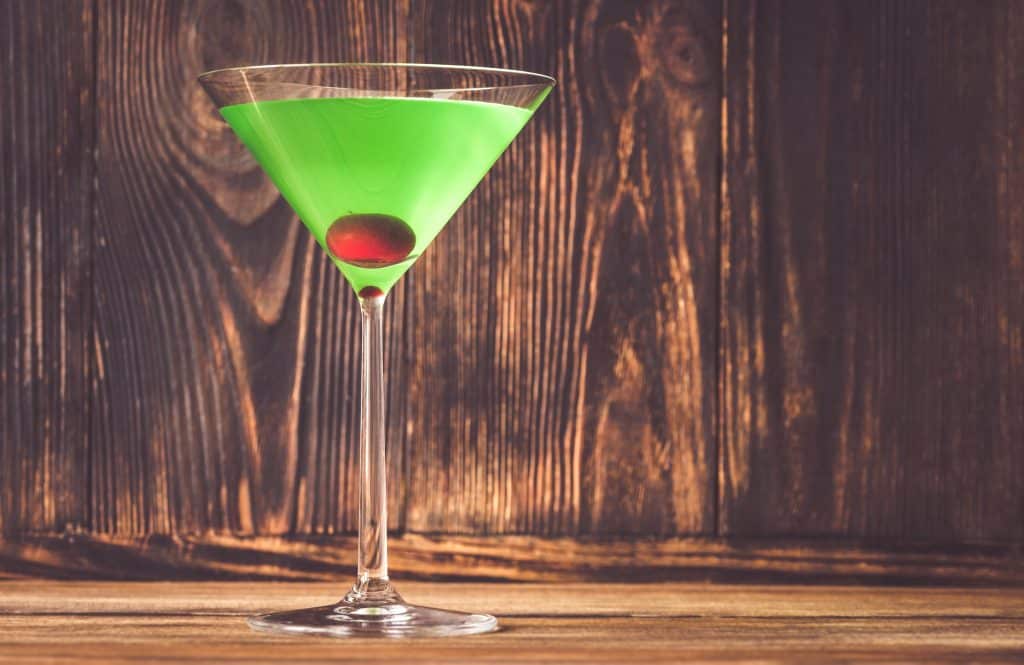 The Japanese Slipper was developed in 1984 by a French bartender working in Australia. The establishment in which he was tending bar purchased its first bottle of the popular Japanese melon liqueur, Midori. The bartender quickly got to work crafting a new cocktail with this new ingredient and thus the Japanese Slipper was born. A Japanese Slipper is a cocktail made with Midori, Cointreau (an orange liqueur), and lemon juice. The result is an expressly sweet cocktail that's tempered with the acidity of the lemon juice. The components of this drink are shaken in ice and strained into a chilled martini glass. The Japanese Slipper is a bright green color, thanks to the Midori, and it's garnished with a single maraschino cherry.
Jasmine
Created in 1992, when challenged by a customer to "make something new," a New York City bartender solidified this craft cocktail's place in the history books. The pretty pink drink is unique, refreshing, and mildly fruity. A Jasmine is a mix of gin, Campari, Cointreau, and lemon juice. It's served straight-up in a chilled coupe glass and garnished with a lemon twist.
John Collins
Created in the mid-1800s by a server in the United Kingdom, the John Collins is the whiskey variety of the ever-popular Collins family of drinks. Like all Collins drinks, whiskey is simply mixed over ice in a collins glass with sour mix and a splash of club soda. A simple yet highly refreshing cocktail, the John Collins is the perfect summertime drink for whiskey enthusiasts. Lastly, the John Collins is garnished with an orange slice and cherry.
Jolly Rancher
A Jolly Rancher is a sweet mixed drink that is fruity and goes down easily, just like the candy for which it's named. The versatile Jolly Rancher recipe lends itself to both a mixed drink and a shot. Simply, a Jolly Rancher is a mix of peach schnapps, apple liqueur, and cranberry juice. If you plan to sip the Jolly Rancher, you'd make it over ice in a lowball glass or you could shake the ingredients and strain them into a shot glass if you'd prefer to shoot it.
Jolly Roger
Named for the Caribbean pirate, the Jolly Roger is obviously made with a pirate's favorite spirit: rum. The Jolly Roger is a strong yet fruity and sweet, punch-like drink perfect for al fresco imbibing. The Jolly Roger is made with a mix of dark rum, Galliano, apricot brandy, and orange juice. It's mixed over ice in a tall glass and garnished with either an orange or apricot slice or both for good measure.
Juan Collins
Despite its unknown origins, Juan Collins was a happy addition to the Collins family of drinks. A Mexican spin on the Tom Collins, the Juan Collins mixes tequila and sour mix with a splash of Mexican Cola instead of club soda. Unlike a traditional Collins drink which is garnished with an orange and cherry, the Juan Collins is garnished with fresh strawberries. Finally, a Juan Collins is served over ice in a collins glass.
Jubilee Fizz
The Jubilee Fizz was created in honor of Queen Elizabeth's Platinum Jubilee. This British cocktail is a celebratory champagne drink; it's delicate and bubbly and perfect for your next special toast. A Jubilee Fizz consists of fruits such as strawberries and raspberries muddled with sugar and rosewater. A spoonful of this fruity blend is added to a champagne flute and topped with champagne or prosecco. A fun spin on the Mimosa, the Jubilee Fizz is a must-try.
Jungle Juice
Today, Jungle Juice is a frat party mainstay, however, Jungle Juice has its roots in the South Pacific region during World War II. Inventive soldiers mixed any and all spirits they could get their hands on in giant vats for sharing. Jungle Juice today is essentially the same thing. Jungle Juice is a punch-like beverage, both strong and sweet, that mixes all your favorite liquor bottles with sweet juices. A popular blend of Jungle Juice includes rum, vodka, gin, fruity liqueurs, wine, juice, lemonade, and fresh citrus fruit. Mix whatever you have on hand and bottoms up! The best vehicle for a serving of Jungle Juice is undoubtedly the Red Solo Cup.
The Final Letter
Make sure to arrange for a designated driver if you plan to get down on some of these party faves. If you'll be throwing a house party anytime soon, consider adding some of the tasty drinks listed herein to your menu. Otherwise, be on the lookout for some of these other awesome blends next time you belly up to your favorite watering hole.
---
Recent Recipes