Cool & Refreshing Peruvian Chicha Morada
The Chicha Morada is a traditional Peruvian drink made from dried purple corn, fruits, and spices. It is traditionally consumed during the hot summer and had chilled or with ice. The dried purple corn is indigenous to the Andes Mountain range and grown in plenty there. But dried purple corn can be found in most Latin supermarkets or online. There are also plenty of bottled versions of this iconic purple drink as well as powdered alternatives, but nothing beats making it from scratch.
Let me tell you, the Easy and Delicious Chicha Morada is super simple to make and requires minimum ingredients, but it does tend to take a long time. It involves putting together the dried purple corn, the fruits, spices, and water and bringing it to a boil, and then simmering it for a long, long time. You then add the sugar and lemon juice and voila, you have a delightfully pretty, purple drink that is both divine and healthy. Interestingly, every part of the pineapple and apples is used in making it. The fleshy, tasty part of the fruit, as well as the skin or peel, is also used, boosting both flavor and health. And making the Chicha Morada is even more economical and practical because you can use the discarded flesh, pulp, and peels from making a bath of Chicha Morada to make an entirely new batch. You can keep using the purple corn until the corn starts splitting, then you know it's done. Just use the corn, and fruit, you add more fresh-cut fruit to give it more flavor.
The dried purple corn is rich in antioxidants and helps fight against several diseases from obesity to cardiovascular diseases and even certain types of cancer. For more information on the health benefits of the amazing purple corn, look what the United States Department of Agriculture has to say about it here.
The Chicha Morada is even more interesting because it also is very versatile. Besides the traditional pineapple and apple that is used to make it, you can add many other fruits like guavas and peaches. And what is even better, the Easy and Delicious Chicha Morada can be used along with alcohol to make delightful, refreshing cocktails.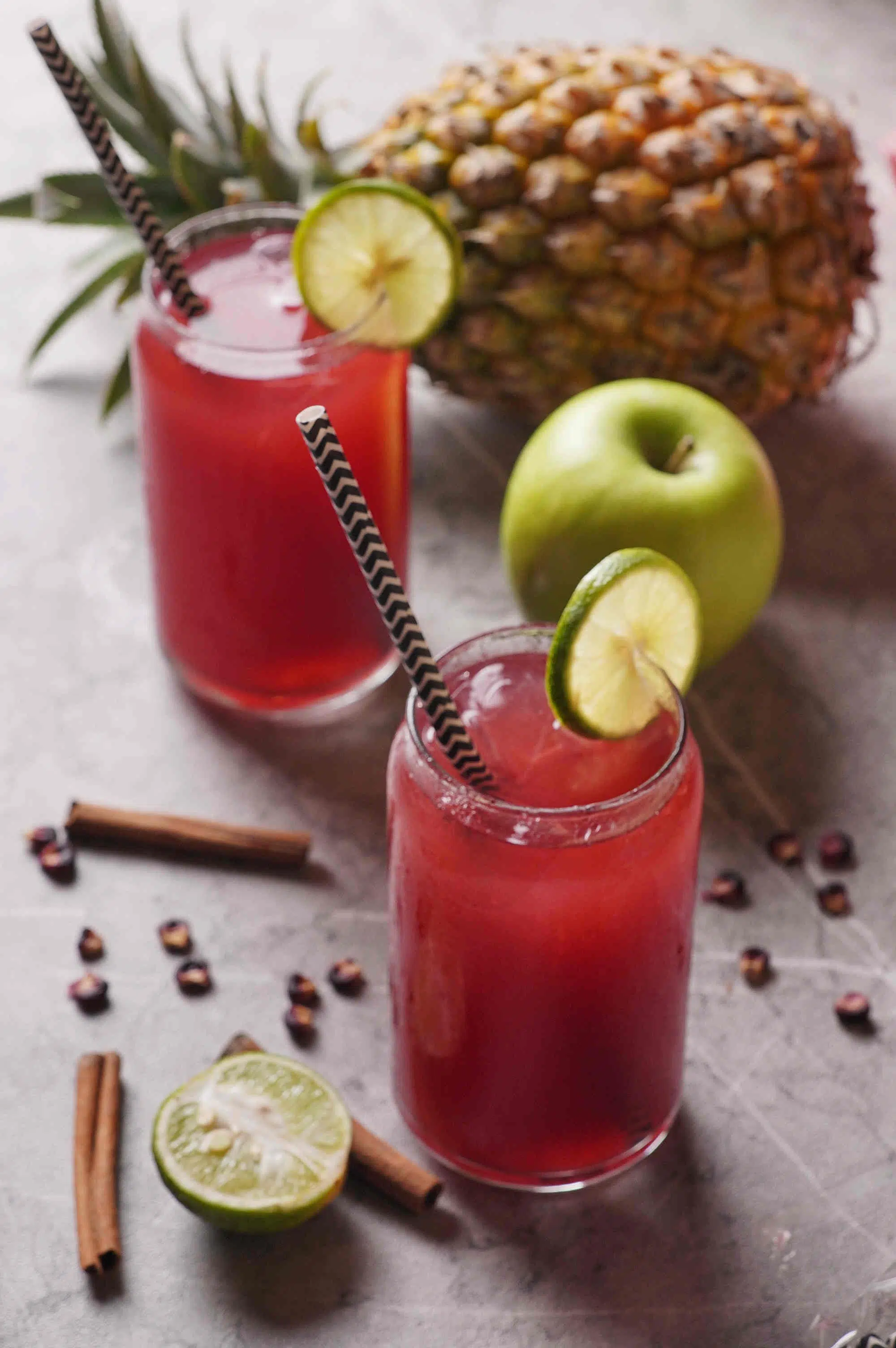 Ingredients
1

pound

of dried purple corn

1

ripe pineapple

peeled and cut, reserve the peels

2

apples

chopped with the peel or peel and chop and reserve the peels

3

cinnamon sticks

5

cloves

1 ½

cups

of sugar

white or brown

½

cup

fresh lime juice

1

gallon

water
Instructions
Get all your ingredients together.

Wash the dried purple corn and remove all impurities and dirt

In a large pot, place the dried purple corn, the pineapple, and the pineapple peel, the apples with the skin, the cinnamon sticks, the cloves and add the water.

Bring it all to a boil and then let it simmer for about 50 to 60 minutes. The water will be a dark purple color.

Take off the heat and strain and remove all the solids.

Add sugar to the purple drink and stir till it completely dissolves

Once the chicha has completely cooled, add the lemon juice

Chill and serve or serve with ice
Video
Nutrition
Calories:
233
kcal
|
Carbohydrates:
61
g
|
Protein:
1
g
|
Fat:
1
g
|
Saturated Fat:
1
g
|
Polyunsaturated Fat:
1
g
|
Monounsaturated Fat:
1
g
|
Sodium:
26
mg
|
Potassium:
197
mg
|
Fiber:
3
g
|
Sugar:
54
g
|
Vitamin A:
102
IU
|
Vitamin C:
61
mg
|
Calcium:
48
mg
|
Iron:
1
mg
Shop Ingredients
Tips & Tricks
Use everything from the fruits. The skin and peels all have extra flavoring that enriches the taste of the Chicha Morada.
Add the lime juice only after the Chicha Morada has completely cooled, else the drink will have a bitter aftertaste
You can increase or decrease the amount of sugar in the drink as per your personal preference.
The discarded fruits and spices can be used once again to whip up another batch of Easy and Delicious Chicha Morada. But this time halve the water and sugar as the drink won't be as potent.
You can add some fresh, chopped fruits, like apple or pineapple to the drink before serving.
A shortcut to making this, place all the ingredients, except the sugar and lemon juice in an Instant Pot, set the pressure cooker timer to 30 and you're done. Let it naturally depressurize.
Storage
You can refrigerate for as long as you'd keep fresh juices in the fridge. You can also freeze it for up to a month. And just let it sit out before drinking so it will still be chilled but not icy. This Chicha Morada is a non-alcoholic beverage, but it can be used as a mixer for a cocktail. If you are using it as a mixer, you might want to go easy on the sugar as it might make your drink extra sugary, almost syrupy.
FAQs
What Can I Use Instead Of The Dry Purple Corn, If I Don't Have Access To Any?
Unfortunately, the Chicha Morada cannot be made without dried purple corn. Nothing else has the color and taste of the purple corn. But they are quite commonly available in most Latin supermarkets. You can also find it online.
Can I Use Something Else Instead Of White Sugar?
Yes, absolutely. Brown sugar is the obvious answer, and it blends well with the Chicha Morada giving it a little rustic vibe. You can also use maple syrup, honey, agave, or even ginger syrup that has a little hint of spiciness.
Substitutions
So, obviously, there is no substitute for dry purple corn. It is irreplaceable in this recipe. But the rest of the ingredients are all suitable for variations.
The fruits are the most obvious. Besides pineapples and apples, you can use peaches, plums, quinces, nectarines. While green apples are the most popular choice you can use any apple that has a little tartness to it. As for the whole spices, you definitely cannot make this drink without cloves and cinnamon, but you can add some star anise to it or even some allspice.
Accompaniments
The Easy and Delicious Chicha Morada is a summer drink. It is cool, refreshing, and extremely healthy as it is full of antioxidants. It is perfect with some ice, chopped fruits, or just as a mixer for some fun, colorful cocktails.
For more such interesting drink recipes check out the Haitian Egg-Free Cremasse and this Lacto-Fermented Fruit Juice.
---
Get Foodie Deals
We collect great foodie-focused deals from across the web daily. Get yourself or your favorite foodie a great deal at big name stores.
Recent Recipes