Simple Nicaraguan Nacatamales (Nicaraguan Style Tamale)
You may be familiar with the Mexican style of tamales: beans, cheese, and some meat, all wrapped in a corn dough then folded into corn husks before being cooked. The result is a soft, corn-bread like exterior with simple burrito ingredients. They pair well with hot sauce and a few other dips. Mexican tamales are yummy, don't get me wrong, but these Nicaraguan style tamales are really something else.
Nicaraguan nacatamales are stuffed with a lot more on the inside. This causes them to hold an explosion of flavors and it also makes an individual tamale a lot more filling. This version shares the same base ingredients as the Mexican version, but it has a fruitier filling that adds a sweet and bitter tang. It is also wrapped in banana leaves instead of corn husks. Aside from the banana leaves, most of the ingredients for Nicaraguan nacatamales are fairly standard things you might already have in your pantry.
One thing to note about this recipe is that it is rather time consuming. You will need to hand-roll all the tamales and–if you are not used to it–it can take a little while to get the hang of. It also takes several hours to cook. That being said, tamale making is a great group activity. I used to work in a shop where we made tamales once a week and we would often have five people doing it at the same time. Sometimes we would do it like a conveyer belt too! It was always fun though.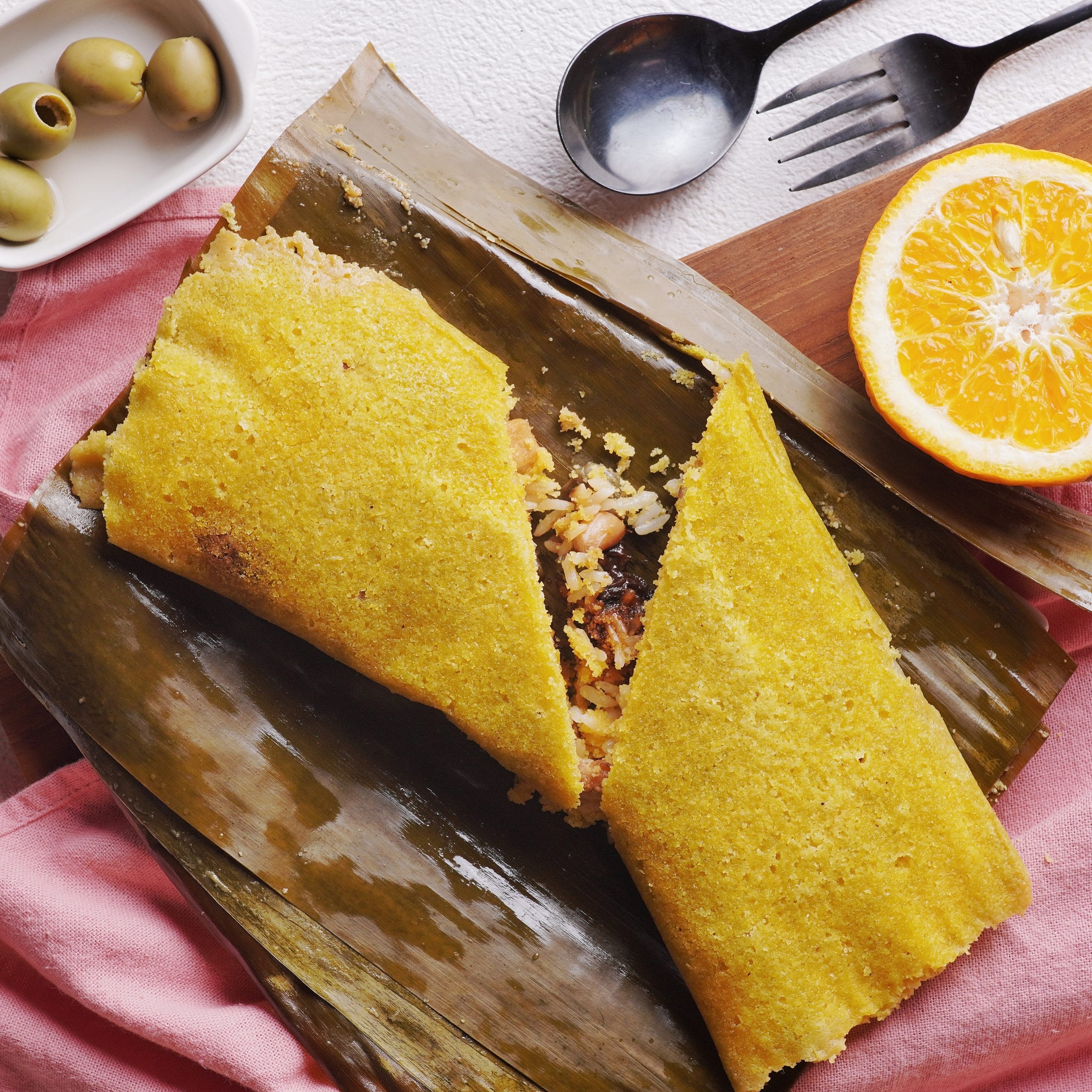 Ingredients
6

cups

corn meal

1

bitter orange

3

cups

lard

1

+ tbsp salt

4

cups

chicken broth

3

lbs

pork butt

3

potatoes

1

onion

2

bell peppers

2

tomatoes

4

cloves

garlic

1

tbsp

vegetable oil

½

cup

green olives

½

cup

prunes

½

cup

raisins

¼

cup

peanuts

¼

cup

capers

12

banana leaves

Salt & Pepper

¾

cup

white rice
Instructions
All ingredients ready? Let's begin!

In a large bowl, or the bowl of an electric stand mixer, mix together the corn meal, lard, and 1 tbsp of salt. Mix until the lard is well incorporated and the mixture clumps together.

Add the juice of the orange and 3 cups of chicken broth to the dough then mix again. The dough should become soft and moist but also thick and stick together in one solid clump. To achieve that texture, you may need to add the rest of the chicken broth.

Continue kneading the dough with an electric mixer or your hands for about 2 minutes, then set aside in a bowl and cover. Let sit for at least 30 minutes.

Put the rice into a large bowl and cover with warm water. Set aside and allow to sit for at least 30 minutes.

Cube the pork butt into small pieces and season liberally with salt and pepper.

Peel the potatoes and slice into thin pieces. Peel the onion and chop. Thinly slice the bell peppers and tomatoes. Finely dice the garlic.

In a large skillet, heat up the oil. Once it is hot, put the pork in and cook for about 5 minutes or until the pork has browned on all sides.

Add the tomatoes, onion, bell peppers, and garlic to the pan. Cover and cook on low heat for 5-10 minutes or until the onion and peppers are tender.

After 30 minutes, drain the rice.
To assemble the nacatamales:
Lay a banana leaf on a clean surface with the smooth side down. Place a large scoop of dough on the leaf and spread it out across the leaf. Wet your hands if it is too sticky.

Down the middle of the dough, add a spoonful of pork. Add on top around 2 tbsp of rice, a layer of potato slices, and a spoonful of onion, pepper, and tomato. Now on top (or to the side) place a prune, some olives, raisins, and capers.

Use one edge of the leaf to lift the dough and roll closed. You want the dough to encompass all the fillings, so try getting one edge of dough to meet with the opposite edge.

Fold the edges of the banana leaf over like a burrito and tuck both ends up if possible.

Wrap the whole thing in a square of tin foil to keep it all together.

Repeat until you run out of ingredients.

To cook, you will need to steam them. This can be done by filling a large pot halfway with water and placing a metal rack on the inside to hold up the tamales. Bring to a boil, then reduce to low heat and cover.

Let the tamales steam for about 4 hours, but keep an eye on the water, always adding more so it doesn't all evaporate.

After 4 hours, use heat-proof tongs to remove the nacatamales from the pot. Allow them to cool so they are safe to handle, but serve hot.

Before eating, remove the tin foil and banana leaf. Enjoy!
Video
Nutrition
Calories:
622
kcal
|
Carbohydrates:
91
g
|
Protein:
34
g
|
Fat:
14
g
|
Saturated Fat:
4
g
|
Polyunsaturated Fat:
3
g
|
Monounsaturated Fat:
6
g
|
Trans Fat:
1
g
|
Cholesterol:
70
mg
|
Sodium:
1148
mg
|
Potassium:
1148
mg
|
Fiber:
12
g
|
Sugar:
7
g
|
Vitamin A:
1330
IU
|
Vitamin C:
43
mg
|
Calcium:
74
mg
|
Iron:
5
mg
Notes & Tips
Tamales of any sort aren't great in the fridge, but they store very well in the freezer. Once you have finished preparing all the nacatamales, carefully put them in a large ziplock bag or Tupperware before being cooked. To cook them later, just take them out of the freezer and cook as normal (though for a little longer).
If you have already-cooked nacatamales that you can't finish, they will be alright stored in an airtight container in the fridge for about a day. Any longer and they become a soggy mess.
You can easily prep the individual aspects of the nacatamales and leave them overnight in the fridge, so all you have to do the next day is shape and cook.
Substitutions
If you don't have lard, you can use shortening, though it won't taste quite as good. If you can't find banana leaves, you can use corn husks like Mexican tamales. You may also need to overlap the leaves if they are too small. For corn husks, you will need to soak them in warm water for at least 30 minutes before.
---
Recent Recipes