Crispy Juicy Haitian Fried Chicken (Poul Fri)
Haitian Fried Chicken or Poul Fri is a super flavorsome fried chicken that is deep fried without any batter. It includes chicken that has typically been marinating anywhere from 30 minutes to 24 hours. It is then fried till it develops a light, crispy outer skin and is succulent and tender inside. The magic of the Crispy Juicy Haitian Fried Chicken is that it is bursting with bold and beautiful flavors.
This is not your regular bucket, this is carefully seasoned, marinated and then fried. I have used minimal ingredients, which makes this dish both simple and delicious. Remember, the longer the chicken marinates, the better the flavor.
For anyone who is always going to the drive through for you fried chicken fix, you have to try this. It is delicious and juicy and while it doesn't have the breaded-batter texture it is just as delectable.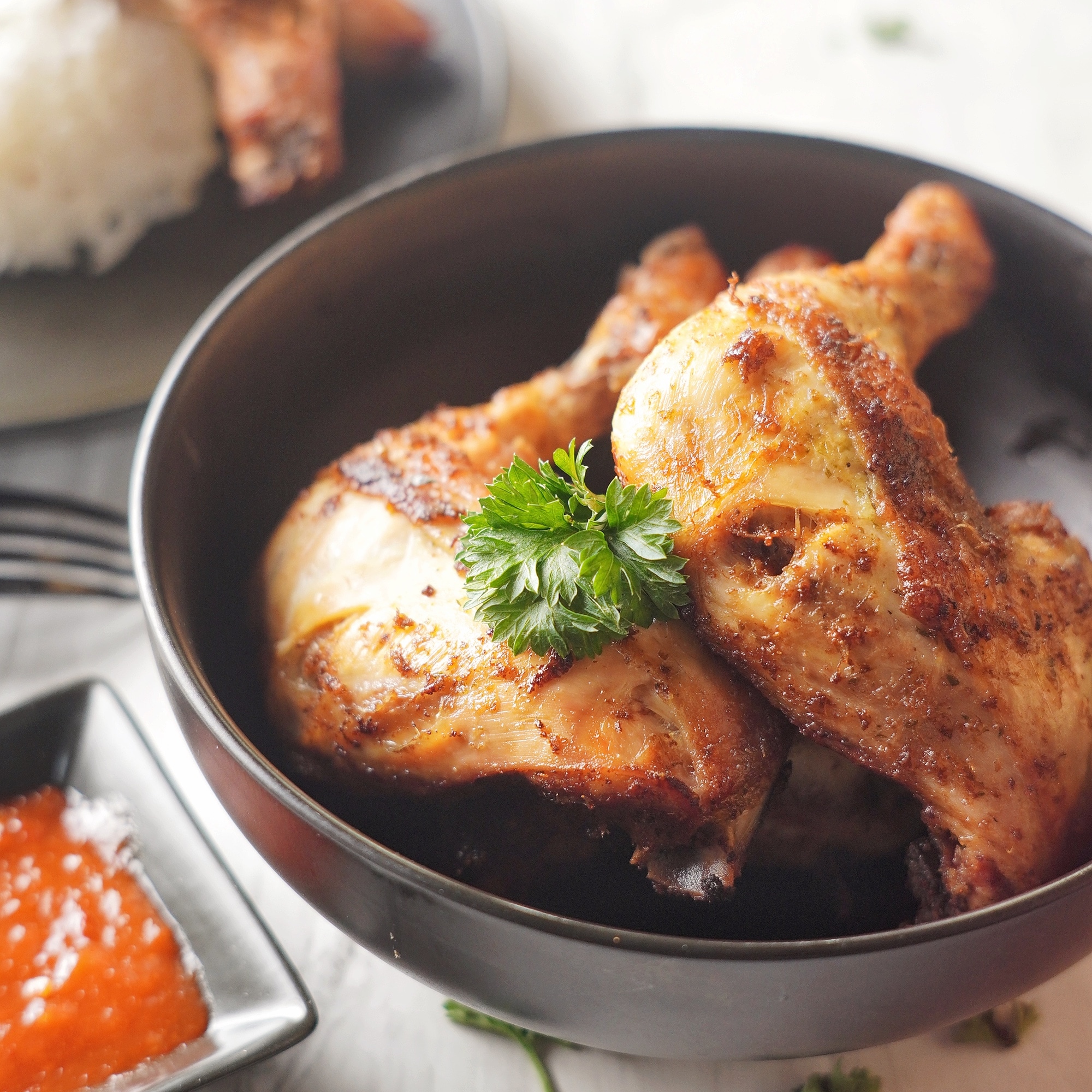 Ingredients
10

pieces

of chicken legs

1 ½

cups

of Epis

2

tablespoons

of lemon juice

2

teaspoons

of garlic powder

2-3

sprigs of thyme

Salt and pepper

Oil to deep fry
Instructions
Wash the chicken legs well, pat dry and set aside.

In a large bowl mix together the Epis seasoning, lemon juice, garlic powder, thyme, salt and pepper.

Add the chicken pieces to the bowl and mix well till all the chicken pieces are well coated in the marinade. Let it marinate for at least 30 minutes. If you are making ahead, cover with saran wrap or place in airtight container and refrigerate overnight.

Heat oil in a deep pot. Add the chicken pieces slowly so that the oil doesn't splutter. Don't overcrowd, place only as much as can comfortably fry without touching one another. Let them fry for about 6-8 minutes. The chicken pieces should take on a nice deep golden color.

Remove with a slotted spoon and place on paper towels to drain excess oil.
Nutrition
Calories:
127
kcal
|
Carbohydrates:
1
g
|
Protein:
9
g
|
Fat:
9
g
|
Saturated Fat:
3
g
|
Polyunsaturated Fat:
2
g
|
Monounsaturated Fat:
4
g
|
Trans Fat:
1
g
|
Cholesterol:
56
mg
|
Sodium:
17020
mg
|
Potassium:
132
mg
|
Fiber:
1
g
|
Sugar:
1
g
|
Vitamin A:
54
IU
|
Vitamin C:
2
mg
|
Calcium:
17
mg
|
Iron:
1
mg
Tips & Tricks
Remember to always wash chicken before using, and pat it dry with paper towels.
You can use chicken thighs or drumsticks if you prefer
The longer you let the chicken marinate in the spices the more juicy and flavorful the chicken will be.
Don't overcrowd the frying pan or pot while frying the chicken. The chicken pieces won't fry evenly and the longer you keep them in hot oil, the chewier they will get. The chicken needs to be crispy on the outside and juicy on the inside.
Storage
It is not often you are going to have leftovers with the Crispy Juicy Haitian Fried Chicken, but if you do, store the chicken in an airtight container. Or wrap the chicken tightly in foil and place in an airtight container and refrigerate. The Crispy, Juicy Haitian Fried Chicken will last in the fridge for 3-4 days.
To reheat the chicken without making them soggy, first let the refrigerated fried chicken sit out for about 30 minutes. Preheat the oven to 400 degrees F and bake chicken for 12-15 minutes.
You can also freeze the chicken, if stored properly, well-wrapped in an airtight container, the Crispy, Juicy Haitian Fried Chicken can last for about three months.
This is a great make ahead dish. Marinate the chicken, cover it and refrigerate it. The marinated chicken can be left in the fridge for up to 24 hours, you can take it out and deep fry.
FAQs
What is Epis?
Haitian Epis is basically a blend of spices, herbs and seasoning that is used as a base in most Haitian dishes. It is made up of onion, garlic, vinegar, olive oil, peppers and parsley along with a number of other herbs as spices. It can include bouillon cubes, thyme, rosemary, chili, lime and so much more. A few spoons of epis can be added to most dishes to give it a lovely, spicy, Haitian twist. Epis can last in the fridge for up to a week and for about 3-4 months in the freezer. Epis is very distinctly Haitian and is used as a base seasoning in many Haitian dishes.
Can I air fry the Crispy Juicy Haitian Fried Chicken?
You can definitely air fry the Crispy Juicy Haitian Fried Chicken. It is just as juicy and flavorful and so much healthier with the reduced oil. 
Preheat the air fryer to 400 degrees F. Follow recipe instructions from Steps 1 to 3. Spray the air fryer basket with oil. Place the chicken pieces in the basket. You do not want to overcrowd the basket so you will have to air fry it in batches. Fry for 30 minutes. Flip them halfway through. 
Substitutions
This is a classic dish with very basic ingredients, so there is not much you can substitute, but you can tweak it to accommodate personal tastes.
Chicken legs: you can use chicken drumsticks or chicken thighs.
Epis: This gives it that quintessential Haitian flavor, you can use a combination of spices and seasonings instead. You can use, black pepper, onion, vinegar, garlic, rosemary, thyme, oregano, parsley or any other seasoning you like along with some olive oil.
Seasoning: I have used just garlic powder and thyme along with salt and pepper. You can use any other flavoring, like paprika, Adobo seasoning, cumin, mint etc.
Lemon juice: You can use lime juice or lemon salt.
Accompaniments
The Crispy Juicy Haitian Fried Chicken is a tender, juicy and hearty dish that pairs well with warm rice. You can also have it along with a side salad and flat breads. Or just have as is with a dip of your choice. 
If you want to enjoy more fried food, be sure to check out this Baked Cranberry Rosemary Chicken or this Cheesy Corn Pea Fritters for a vegetarian option.
---
Recent Recipes