Easy Low FODMAP Stir Fry Sauce
The low FODMAP diet is ideal for relieving those irritating IBS symptoms. But with the diet comes certain food restrictions. If you're making a low FODMAP stir fry, you might find yourself limited in the sauces you can enjoy with it.
This is a common issue for low FODMAP dieters, but you're not without options. Thanks to our low FODMAP stir fry sauce recipe, you can enjoy a protein-packed addition to your stir fry. So join us we walk you through this recipe with step-by-step directions.
We will also discuss substitutes that you can use in place of certain ingredients if you can't have the originals for any reason. This versatility ensures that you get the vitamins and minerals your body needs without compromising flavor.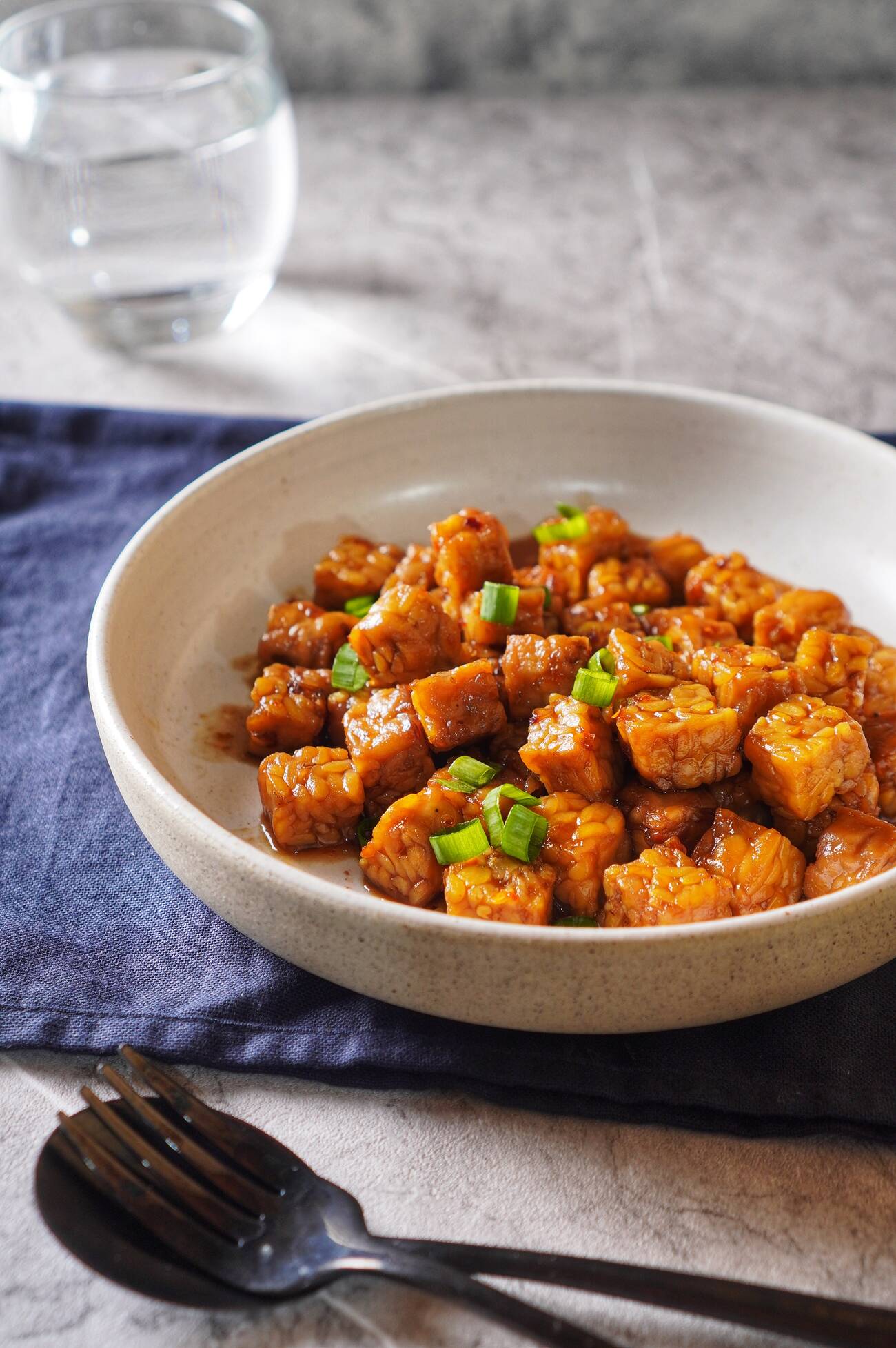 Ingredients
2

tablespoons

of soy sauce

reduced-sodium

1

tablespoon

of olive oil

garlic-infused

¼

teaspoon

of ground ginger

Red pepper flakes

optional

3

tablespoons

of coconut oil

¼

cup

of maple syrup

pure

8-

ounce

package of tempeh

optional
Instructions
Assemble ingredients.

You will need a small bowl to start. In the bowl, you want to add the soy sauce, maple syrup, ginger, olive oil, and pepper flakes.

Whisk these ingredients together and set the bowl aside.

Over medium-high heat, you want to heat the coconut oil in a large frying pan. When it's hot, add the cubed tempeh and cook. When sufficiently browned, remove the cooked tempeh from the pot and place it on a plate lined with paper towels.

With the pot you just emptied, add the sauce and cook on medium-high heat for between 30 seconds and 1 minute. Make sure that you are constantly stirring until the sauce begins to thicken.

Then, take it off the heat.

Add the cooked tempeh while stirring well.
Video
Notes
Included the

tempeh for an easy use-case, obviously can stir fry whatever you'd like!
Nutrition
Calories:
238
kcal
|
Carbohydrates:
19
g
|
Protein:
1
g
|
Fat:
19
g
|
Saturated Fat:
12
g
|
Polyunsaturated Fat:
1
g
|
Monounsaturated Fat:
4
g
|
Sodium:
673
mg
|
Potassium:
87
mg
|
Fiber:
0.1
g
|
Sugar:
16
g
|
Vitamin C:
0.01
mg
|
Calcium:
32
mg
|
Iron:
0.4
mg
Notes & Tips
Please note that the serving size for low FODMAP tempeh is 100 grams. It's important that you keep your FODMAPs as low as possible. Because tempeh contains 100 grams per low FODMAP serving, it's a good idea to re-check all of the ingredients to make sure there isn't anything that has too high FODMAP content.
If necessary, make adjustments to lower the FODMAP content of the stir fry sauce. Moreover, some tempeh may contain gluten, so be sure to check the contents to ensure that you're buying gluten-free tempeh.
When preparing your tempeh for the low FODMAP stir fry sauce recipe, be sure to cut it into small cubes measuring about 1 inch each. Because you will be cooking so many small pieces of cubed tempeh, it's important that you pay close attention and cook all sides.
The key is to get every side brown. At that point, you can safely remove the tempeh from the frying pan. Then, just follow the rest of the directions as outlined above.
For best results and taste, we recommend serving the stir fry sauce warm. If you prefer, you may add the tops of green onions to the sauce as a garnish. Please note to use the green parts only to ensure that the recipe remains low FODMAP.
This is because onions are considered foods that are high in FODMAPs. The green parts, however, won't affect the recipe. Thus, you can consume them safely with your stir fry sauce.
Substitutions
Since soy sauce contains small amounts of wheat, you might be wondering if there's a gluten-free alternative that you can use in its place. Great news; there is! Simply swap out the soy sauce for tamari and enjoy the same great taste that this stir fry sauce provides without the gluten.
It's worth pointing out that soy sauce generally contains low enough traces of gluten that most people should be able to tolerate them just fine.
If you're not a fan of coconut oil, feel free to use the cooking oil of your choosing. The good news is that most cooking oils are naturally gluten-free. Thus, you shouldn't have to worry about interfering with your diet if you can't consume gluten. We recommend using canola, vegetable, sunflower, or olive oil.
Common Questions
Does tempeh contain FODMAPs?
Yes. However, you can safely consume tempeh on a low FODMAP diet as long as you stay within a certain range. For example, the 8-ounce pack of tempeh that this recipe calls for comes out to 226 grams. To ensure that you stay within the safe range, you need to keep your servings to three.

This will make sure that each person gets a total of ~75 grams, well within the acceptable range. Please note that some people may be able to tolerate larger amounts of FODMAPs. But it's also important to consider the additional food items that you're eating with this sauce.

It pays to know the FODMAP levels of your stir fry and any sides, as it can make a difference in triggering your IBS symptoms.
Is this recipe lactose-free?
It isn't lactose-free, but it is very low in lactose. If you have an allergy to lactose, this recipe won't interfere with it or cause you discomfort due to the levels being so low
Sides & Pairings
There are a variety of foods that go well with stir fry and this sauce. However, you will need to keep an eye on what you serve if you're vegan. Egg drop soup is a common favorite, as is Korean kimchi.
You don't have to worry about breaking the bank on this recipe, as it is affordable and easy to make. You don't need a lot of ingredients to make the kimchi, and it is vegan-friendly. So if you can only eat certain foods, you needn't worry about our kimchi recipe compromising your diet.
Chinese okra salad is another hit that works well when paired with this sauce and accompanying stir fry. Add some spring rolls, and you have a delightful low FODMAP meal that you're sure to love.
---
Recent Recipes