Sopa negra roughly translates to "black soup." The name comes from the lovely dark color that is a result of home-cooked black beans. This is a popular Costa Rican recipe, but black bean soup can be made a variety of ways.
Anything to do with black beans makes for a very affordable, filling, and yummy meal. When I was younger, black beans and rice were a big dinner staple in my household because it was one of the cheapest meals we could make at the time. However, I had to eat it so often as a child, I started to resent the classic black bean. This sopa negra reintroduced me to black beans and made me love them again. Another fun black bean recipe I found is this vegetarian shepherd's pie with black beans.
Sopa negra is so much more than just another black bean soup. This recipe includes loads of vegetables and spices, plus a beautiful display of garnishes. The black beans don't come from a can, either. They are soaked and cooked from dry beans to get the best flavor.
Because the beans start off dry, this recipe takes several hours to cook. You will need to start it well in advance, or make it in advance for the next day. Like most soups, it reheats back to freshly-cooked quality with no problems.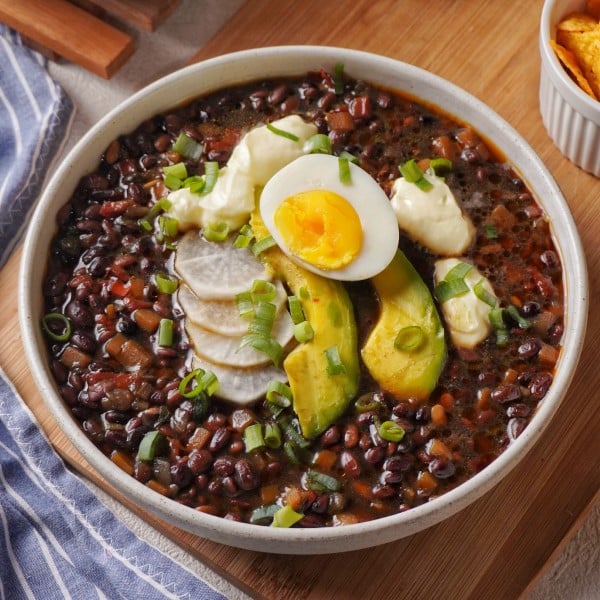 Ingredients
1

lb.

dried black beans

1

tbsp

oil

1

yellow onion

2

celery stalks

2

carrots

2

bell pepper

1

jalapeno pepper

½

cup

cilantro

5

cloves

garlic

8

cups

chicken broth

1

tsp

ground ginger

½

tsp

ground cumin

1

tsp

salt

½

tsp

black pepper

2

eggs

1

radish

1

avocado

Sour cream
Instructions
All ingredients ready? Let's begin!

Rinse the beans with cold water then drain.

Put the beans in a large pot and fill with water until an inch above the beans.

Bring the water to a boil over high heat and let boil for 3 minutes. Remove from heat and let sit for an hour.

In the meantime, prepare the veggies. Peel and roughly chop the onion. Roughly chop the celery and carrots.

Cut the bell peppers in half and remove the stem and seeds. Roughly chop one of the bell peppers and thinly slice the other one. Set the slices aside. Cut the jalapeno pepper in half and remove the stem and seeds before finely dicing. Finely chop the cilantro, removing any large pieces of stem. Peel and finely dice the garlic or use a garlic press.

In a medium pan or wok, heat the oil over medium heat.

Once the oil is hot, add the onion, celery, carrot, jalapeno pepper, and dicing bell pepper. Sauté for 5 minutes, or until the onions become transparent.

Add the garlic and sauté another 2 minutes. Remove from heat.

Once the beans have soaked long enough, drain the water and rinse the beans. Drain that water too, then return the beans to the pot.

Add to the pot the broth, ginger, salt, black pepper, cilantro, and previously cooked vegetables.

Bring the liquid to a boil then turn the heat down to medium low. Put a lid on, tilting it so it leaves a gap. Allow the soup to simmer for 2-3 hours or until the beans are soft enough to easily cut with a spoon.

Cut the avocado in half, remove the pit, and cut into slices. Thinly slice the radish. Chop the green onions. Cover and set aside.

In a small pot, place 2 eggs and cover with water. Bring to a boil and keep at a boil for 10 minutes. Remove from heat and run cold water over the eggs. When the eggs have cooled enough to handle, peel the shell off and cut the eggs in half.

Once the beans have softened, ladle into bowls. Top with some sour cream, avocado, green onions, radish slices, and half a hardboiled egg.

Serve hot and enjoy!
Nutrition
Calories:
613
kcal
|
Carbohydrates:
89
g
|
Protein:
33
g
|
Fat:
17
g
|
Saturated Fat:
3
g
|
Polyunsaturated Fat:
3
g
|
Monounsaturated Fat:
8
g
|
Trans Fat:
0.02
g
|
Cholesterol:
93
mg
|
Sodium:
2395
mg
|
Potassium:
2364
mg
|
Fiber:
24
g
|
Sugar:
10
g
|
Vitamin A:
7385
IU
|
Vitamin C:
91
mg
|
Calcium:
214
mg
|
Iron:
8
mg
Notes & Tips
If you have leftovers, you can store them covered in the fridge for 5 days. Pop it in the microwave to reheat or just put it back on the stovetop for a bit. You can also freeze sopa negra for several months.
Because this recipe is so time consuming, I like to make a double batch and freeze the excess for an easy future dinner. The less time I have to spend cooking in the long run, the more time I have write about cooking.
If you ever cook dry black beans for another recipe, keep the bean broth after you've boiled them. It is a good base for several other dishes and quite healthy.
Serving Suggestions
Sopa negra is very good with corn tortillas. Heat them up in the microwave before serving and use them to scoop up the beans. If you have leftover tortillas, you can use them up making easy adobo chicken tacos.
I also like to dip artisan bread of French bread into sopa negra to soak up all the juices.
More About Black Beans
Black beans are native to the Americas. Actually, all the common beans are native to the Americas. Of course, production has spread globally and beans are used in a wide variety of cuisines. Black beans are arguably the most popular in Latin American cuisine (hence this recipe from Costa Rica), but they are also prominent in Cajun cuisine.
The type of black beans used in this recipe are more specifically called black turtle beans. There are a few other species of bean that are also colloquially known as "black beans," but the black turtle bean is usually what people mean when they say "black bean." It is called black turtle bean because, when dry, it has a hard shell like a turtle.
Black beans are super versatile and popular in cooking. They are very meaty and dense, so black bean dishes are sure to fill you up. Lots of black bean dishes have no need for meat because the beans are so filling!
---
Recent Recipes