All About Drinks & Cocktails That Start With The Letter F
The French drinks come out to play on the F list of cocktails. Herein, you'll peruse French variations of old classics, a few wild shooters, and a handful of delicate drinks perfect for even the most refined events. With lots of Martinis, a few Margaritas, and some shots in the mix, the F list is fierce and fabulous.
Fancy Nancy
The Fancy Nancy hails from Absolut's playbook of drinks. A citrusy, pale orange-colored martini-style cocktail, the Fancy Nancy is sweet and refreshing. Perfect for al fresco toasting, the Fancy Nancy is made with a blend of vodka, orange liqueur, bitters, sweet vermouth, and orange juice. The ingredients are combined in an ice-packed shaker and strained into a chilled martini glass. This is a perfect drink to make by the pitcher and easy to serve a crowd. The Fancy Nancy is best garnished with an orange twist.
Fifty-Fifty
The recipe for the Fifty-Fifty dates back to the early 1900s. It's essentially a standard Martini the way they were mixed before bartenders began getting creative. A Fifty-Fifty is exactly what it sounds like: equal parts gin and dry vermouth. The balance of these two ingredients creates a magnificent and sophisticated cocktail. The Fifty-Fifty takes the standard Martini a step further by adding two dashes of orange bitters. The ingredients of this cocktail are shaken in ice and served straight-up in a martini glass. The Fifty-Fifty is garnished with a vibrant lemon twist.
Flaming Dr. Pepper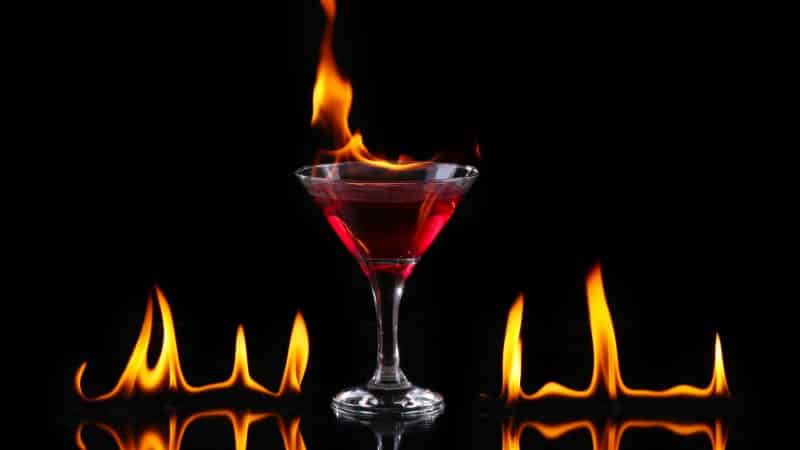 This wild shooter is the thing frat boys' dreams are made of: fire, sugar, and lots of alcohol, oh my! Invented on a New Orleans college campus, the Flaming Dr. Pepper is a combination of amaretto, almond liqueur, and 151-proof rum that's lit ablaze before the shooter shoots this cocktail. The unlikely combination of ingredients is not only high in alcohol content and therefore highly flammable, but it tastes eerily like the soda for which it's named. Of course, this cocktail is served in a shot glass.
Flatliner
Created by a bartender in Telluride, Colorado, the Flatliner is a drink specifically designed to get you feeling tipsy. However, despite its lethal name, it shouldn't totally knock you out. In fact, it's an espresso-based cocktail, similar to an Espresso Martini, that's meant to give you a boost of energy. Of note, the Flatliner is made with vanilla vodka, coffee liqueur, Irish cream, and chilled espresso. The ingredients are shaken in ice and strained into a martini glass. Like an Espresso Martini, the Flatliner is garnished with those three lucky coffee beans.
Florida Sunshine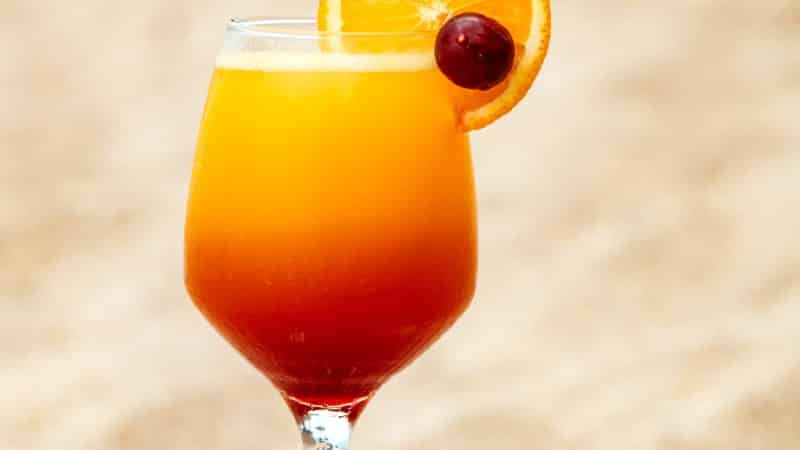 The Florida Sunshine is a fruity cocktail that looks just like what its name suggests. With a gradient of vibrant yellows and oranges, the Florida Sunshine looks like sun-up on a perfect summer morning. Though the origins of this cocktail are unclear, what is clear is that this is the perfect drink for sipping on the patio. The Florida Sunshine is made with tequila, grenadine, orange juice, and pineapple juice. The ingredients are layered and not mixed, thus the ombre effect, over ice in a collins glass. A bright orange wedge is the perfect garnish for this drink.
Flying Dutchman
The Flying Dutchman was created by a bar veteran in San Francisco and the recipe was first published in a Dutch cocktail book in the 1950s. The Flying Dutchman is comprised of once-obscure ingredients; although the ingredients are now readily available, they're not likely stocked on your home bar. Nevertheless, a Flying Dutchman is a blend of Bols genever (a Dutch malt liquor), Benedictine, Yellow Chartreuse, and fresh lemon juice. This is a drink that's served straight-up in a cocktail glass and left ungarnished. The yellow Chartreuse gives this cocktail an incredible neon yellow color.
Foxy Lady
The origin of the Foxy Lady cocktail is attributed to a mixologist from Copenhagen, Denmark. Though this cocktail is delicate and pretty to look at, it packs a proper punch. The Foxy Lady is a creamy cocktail made from gin, strawberry liqueur, lemon juice, simple syrup, and an egg white (the egg white gives the drink its creamy texture). The ingredients are cold shaken and strained into a coupe glass then garnished with a fresh strawberry. Though it's light and mildly fruity, this cocktail is not short on chutzpah.
French 75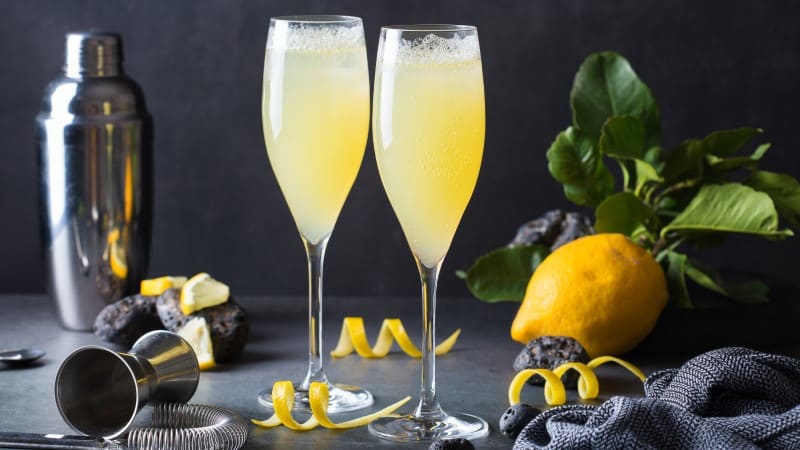 This is a mighty cocktail that will surely put that proverbial hair on your chest. Created sometime around World War I, this drink was given its name because imbibers mused that the strong cocktail was like being "shot in the chest by the French 75-millimeter gun." The French 75 is a strong cocktail made with champagne, gin, lemon juice, and sugar. The latter three ingredients are shaken in ice and strained into a champagne flute then topped with champagne. This sipping drink is best garnished with a zesty lemon twist.
French Kiss
Though there's no real history associated with the French Kiss, this cocktail is simple, subtle, and elegant. A spinoff of a Mimosa or Bellini, the French Kiss is a champagne drink with a splash of black raspberry liqueur and a raspberry garnish; it's served in a champagne flute. This cocktail is perfect for brunch, ladies' luncheons, Mother's Day, and other special events. They're easy to pour for a crowd and perfect for toasting special occasions.
French Margarita
The French Margarita is a variation of the standard Margarita. This version adds a Parisian spin to the Mexican-derived cocktail. Whereas a standard Margarita calls for tequila, triple sec, sour mix, and lime juice, the French Margarita substitutes Grand Mariner, a top-shelf orange liqueur, for the triple sec and adds a splash of Chambord, a French brand of raspberry liqueur. The Chambord adds a lovely pink hue to the drink, a departure from the yellow color of the standard Margarita. The French Margarita is typically served straight-up in a martini glass and garnished with raspberries.
French Martini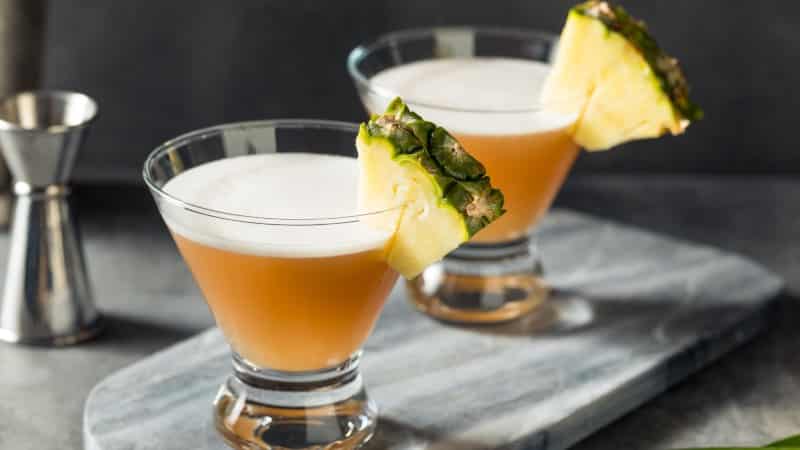 Created in the 1980s in a New York City bar, this French-inspired cocktail is an all-American concoction. It wasn't until the mid-90s that the French Martini gained steam, also in New York City. As seems to be the trend with the French cocktails herein, Chambord, the raspberry liqueur, is what transforms a standard Martini into a French one in this case. Notably, a French Martini is made with vodka, Chambord, and pineapple juice, all of which are shaken in ice and strained into a martini glass. This sweet and sophisticated cocktail is garnished with a small pineapple wedge.
Friar Tuck
Likely hailing from the 1980s, the Friar Tuck is a creamy and delicious cocktail that makes the perfect after-dinner or dessert drink. Though many variations of the Friar Tuck recipe exist, Frengelico, the hazelnut liqueur, seems to be a mainstay. One popular Friar Tuck recipe is made with Frangelico, dark creme de cacao, and cream. The ingredients are shaken in ice and strained into a cocktail glass then garnished with freshly grated nutmeg.
Funky Monkey
The Funky Monkey will surely have you feeling funky after tossing a few of these back. The Funky Monkey has a banana-based flavor profile, a monkey's favorite flavor, thus its name. The Funky Monkey is creamy, sweet, and tropical, making it a perfect cocktail for day drinking. The Funky Monkey is made with banana liqueur, white rum, coconut rum, and pineapple juice. Though it goes down smoothly, don't be fooled by this drink which has a high alcohol content. The Funky Monkey is served over ice in a collins glass and is left ungarnished.
Fuzzy Navel
Created in the 80s by the owner of "Bartender Magazine," the Fuzzy Navel is a variation of a Screwdriver. The Screwdriver is merely vodka and orange juice. The navel (as in Navel oranges) gets fuzzy with the addition of peach schnapps, thus the Fuzzy Navel. The Fuzzy Navel is a quick and easy drink to mix up. It's served over ice in a collins glass and garnished with an orange twist.
The Final Letter
If you've come in search of the best French-inspired cocktails or a fun shot or two, the F list of cocktails has your back. From easy to mix at home and cocktails with some of the most obscure ingredients, this list has it all. Whether you'll be ordering one of these the next time you hit the bar or stocking up to create a drink or two at home, these cocktails will not disappoint.
---
Recent Recipes