Elotes locos is a very popular Latin-American street food. Elotes locos is basically Mexican grilled corn covered in mayonnaise and topped with chili powder and cheese. My most prominent memory of elotes comes from the film Nacho Libre starring Jack Black. Perhaps not the most culturally sensitive film, but I didn't know that as a kid. There was one scene my family always quoted where Jack Black's character gets upset and smacks someone's elotes locos out of their hand (and it flies into someone's eye) saying, in classic, humorous Jack Black style, "Get that corn outta my face!" I don't know why, but that was just the funniest thing to me and my siblings. And it's fitting because Elote loco literally is called "crazy corn" when translated which jives with Jack Black's crazy acting style.
There are several versions of this dish, but I am going to give you a Mexican version and include other methods in the substitutions section below the recipe if you want to try a different style. Maybe you will find you prefer one way over another, though most of the differences are fairly small.
Anyway, hopefully this elotes locos recipe will be so good you won't want to smack it out of anyone's hands. It is pretty easy, as far as recipes go. The longest part is just cooking the corn, and even then, it takes no more than 15 minutes. When you are done and have added the toppings, the result is a picture-perfect, healthy, quick and yummy corn. Let's bite into this easy Mexican grilled corn and cheese recipe below.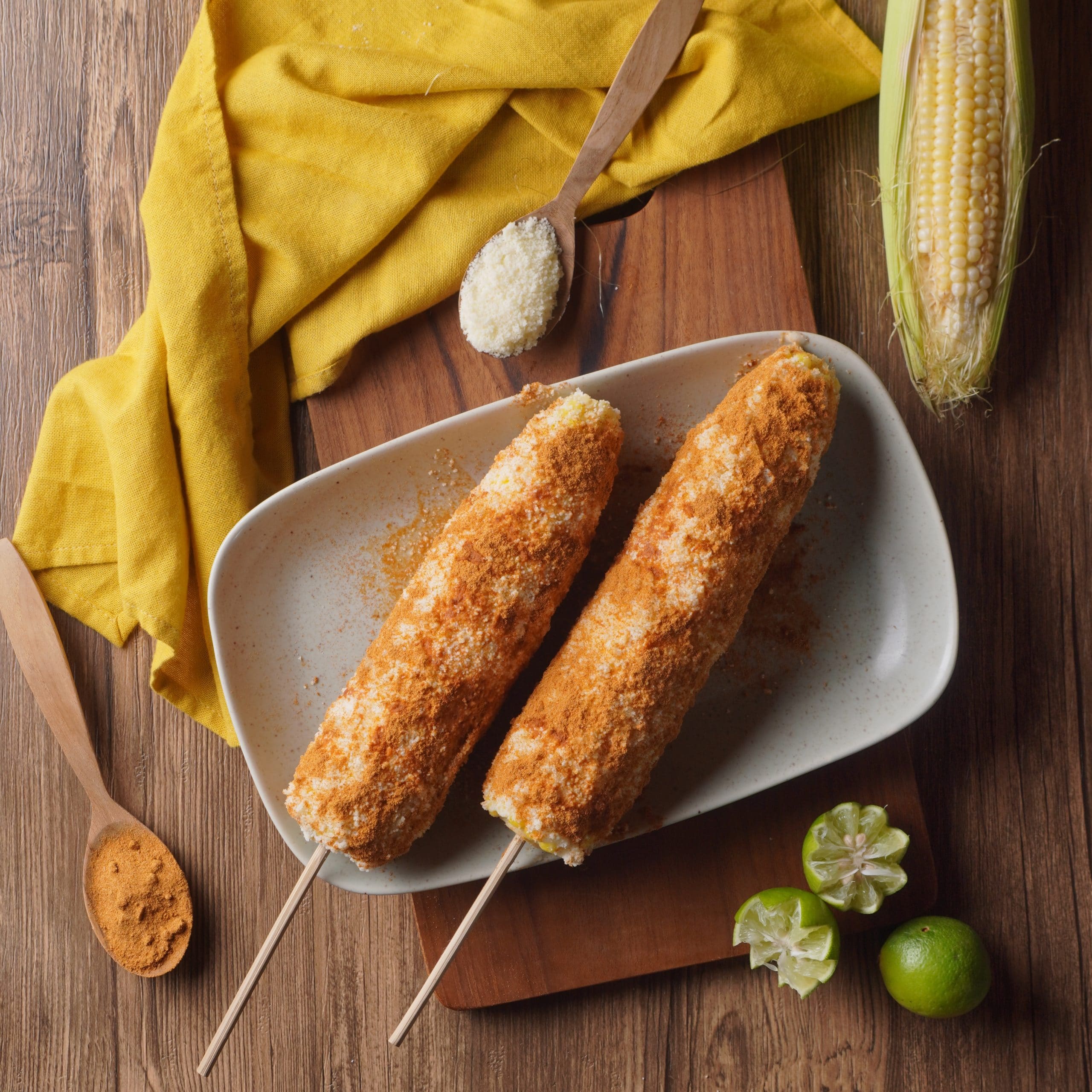 Ingredients
2

fresh corn on the cob

4

tsp

mayo

¾

cup

cotija cheese

4

tsp

chile piquín

2

tsp

lime juice
Instructions
All ingredients ready? Let's begin!

Peel and shuck the corn, removing all the corn silk.

To cook the corn, you may choose to boil or grill it. I prefer the taste and texture of grilled corn, but sometimes boiling is easier.

To boil: fill a large pot up with water and bring to a boil over high heat. Once brought to a boil, reduce heat to a simmer and add the corn. Cook for 15 minutes or until softened.

To grill: Turn the grill to medium high heat and allow to warm up before placing the corn on the grill. Cook for 5-10 minutes, depending on how charred you like it. Make sure to turn occasionally for an even cook.

Regardless of whether you've boiled or grilled the corn, allow it to cool enough to comfortably handle before sticking it through the base with a bamboo skewer.

Hold the skewer to support the corn as you add the toppings.

Use a knife or spoon to spread the mayo all over the surface of the corn.

Over a plate (to catch the excess in order to reuse), sprinkle or pat the cotija cheese over the corn.

Over another plate, sprinkle the chile piquín across the corn as well. Do NOT coat this on unless you like super spicy things.

Over a new plate or on your own plate, drizzle a little bit of lime juice over the corn and enjoy!
Video
Nutrition
Calories:
209
kcal
|
Carbohydrates:
4
g
|
Protein:
8
g
|
Fat:
18
g
|
Saturated Fat:
8
g
|
Polyunsaturated Fat:
4
g
|
Monounsaturated Fat:
4
g
|
Trans Fat:
1
g
|
Cholesterol:
53
mg
|
Sodium:
693
mg
|
Potassium:
75
mg
|
Fiber:
1
g
|
Sugar:
1
g
|
Vitamin A:
340
IU
|
Vitamin C:
16
mg
|
Calcium:
280
mg
|
Iron:
1
mg
Shop Ingredients
Notes & Tips
If you have cooked too much corn to eat in one go, store it in a ziplock bag in the fridge for up to a week. To reheat, drop it back in boiling water for a few minutes or on the grill for a few minutes, just enough to heat it back up. You could also microwave it, but be careful because it might dry out too much and leave you with popcorn! I do not recommend storing the corn after the toppings have been added, if you can help it.
If you are making elotes locos to serve more than two people, just multiply the ingredients by the amount of corn cobs you need. This is an easy recipe, so you can just eyeball the toppings or let each person prepare according to their preferences.
Sometimes it can be difficult to get the bamboo skewer to pierce the bottom of the corn. If you find that to be the case, try making a hole with a thin knife or something else of a similar size that is stronger and sharper.
Substitutions
To make a Honduran style elotes locos, prepare the corn just as before. Top instead with sour cream, queso seco (or cotija cheese), chile piquín, and lime juice.
To make Salvadorian style elotes locos, prepare the corn the same as before. Spread mayo all over the corn, then drizzle with ketchup, mustard, and salsa negra. Cover with duro blando cheese, a bit of chile piquín, and lime juice.
I have also seen a version of elotes locos that involves coating the corn in chips. In order to do that, get a bag of your favorite spicy chips (spicy doritos, taquitos, whatever) and crush them into a fine powder. Add the mayo or cream cheese and cheese to the corn then coat the corn in the chip powder. Don't add chile piquín on top to this one! However, if you want it super spicy, consider mixing in some chile piquín to the chip powder before putting it on the corn.
Some ingredients might be ones you are unfamiliar with, so look for them online or in a local Latin-American shop. If you can't find them or don't want to buy extra ingredients, here's some ideas of what you can use instead.
Instead of chile piquín, you can use regular chile powder. If you can't find cotija cheese, you can exchange it for parmesan. If you can't get salsa negra, Worcestershire sauce works fine as a substitute. If you cannot find duro blando cheese, feel free to use cotija or parmesan instead.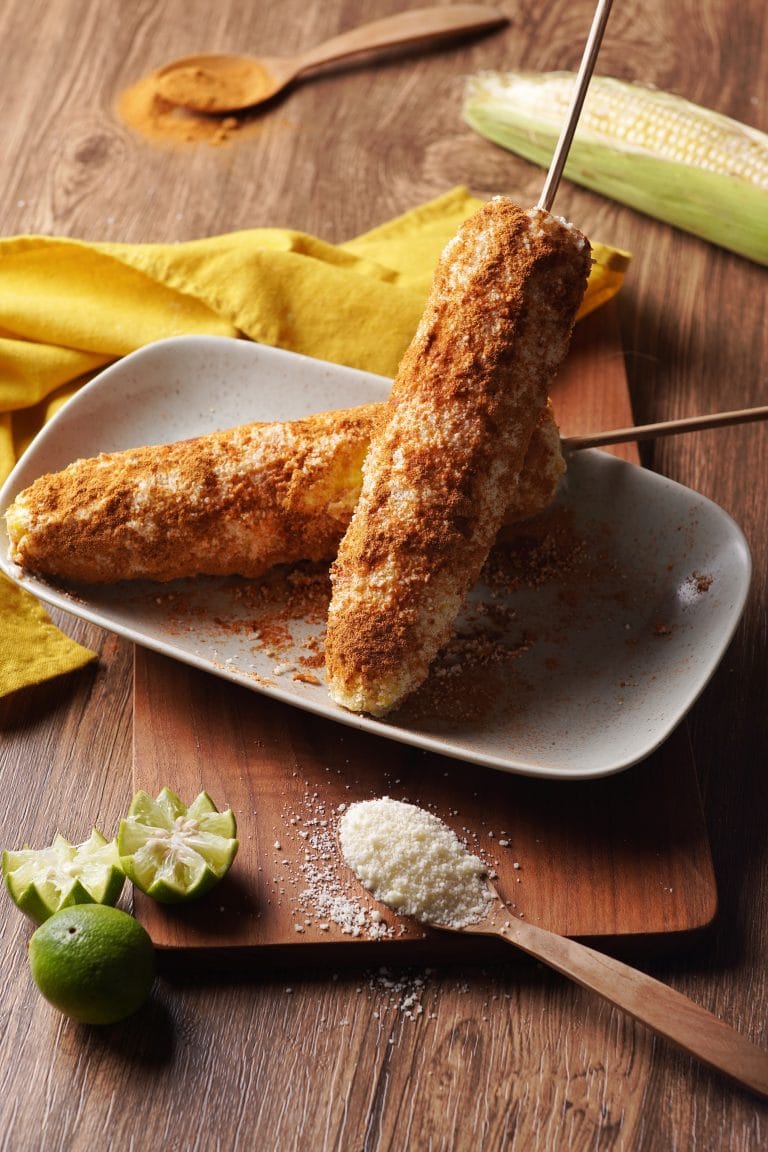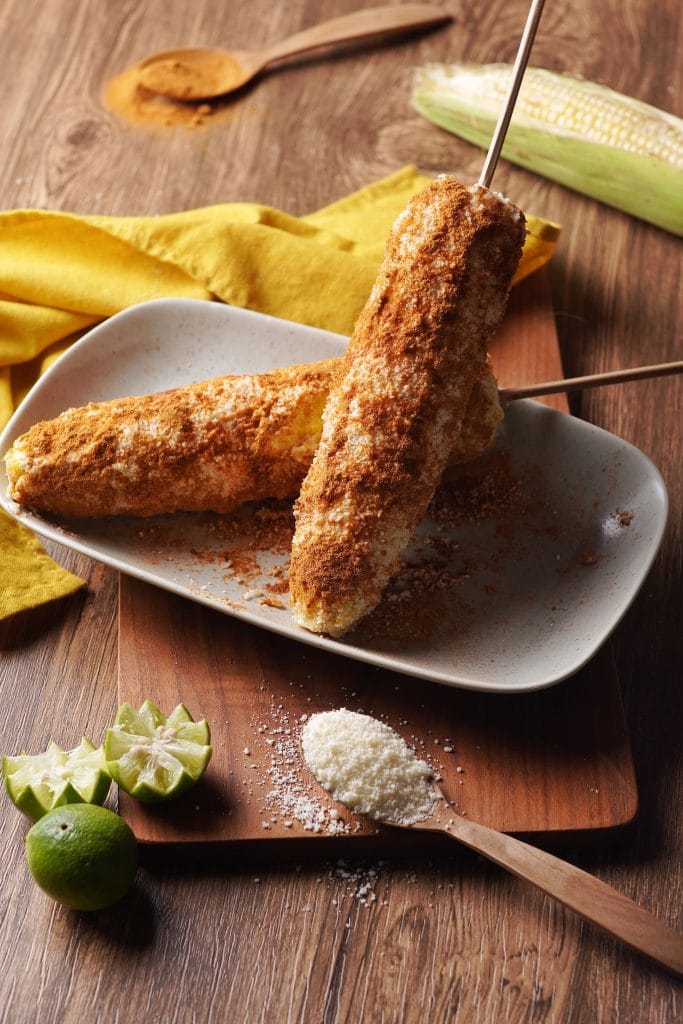 Serving Suggestions
Offering corn with the option of all the different topping ingredients would make a great party food! Who wouldn't want to pick their favorite combo and have the option to try everything?
Another fun, Mexican inspired party food is hot and spicy vegan taco cupcakes. Don't worry, they're not really cupcakes, they're more like taco bowls!
If you want the elotes locos to be the side to an equally delicious entrée, check out this easy, crispy Venezuelan plantain sandwich. Just thinking about this combo makes my mouth water…
---
Get Foodie Deals
We collect great foodie-focused deals from across the web daily. Get yourself or your favorite foodie a great deal at big name stores.
Recent Recipes