Simple Guyanese Pepperpot
Guyanese pepperpot is a magnificent beef stew with melt-in-your-mouth meat and a zingy flavor to keep you warm. Pepperpot is the national Guyanese dish, so you know it's something special. It does take several hours to cook in order to make the meat soft and tender, so be sure to begin preparations much earlier in the day than usual. 
This is an excellent dish to make and freeze in batches so you have something easy and yummy on hand for those days when you're too busy or tired to make dinner. Most of the ingredients will be things you're familiar with, but for the one that isn't, we've given recommendations below the recipe on where to find it.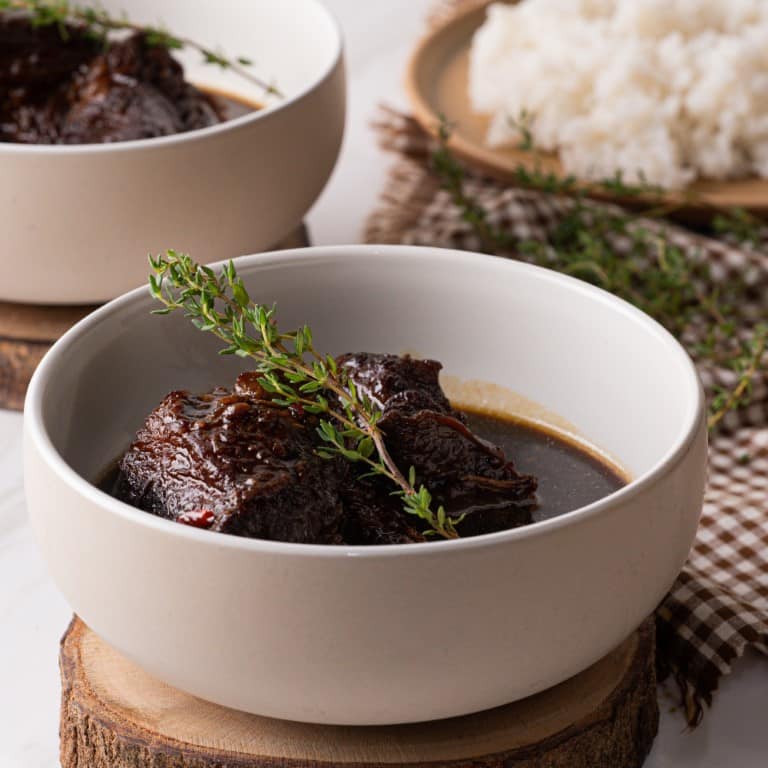 Ingredients
3

lb

beef brisket

1 ½

tsp

salt

1

tsp

ground pepper

2

onions

8

cloves

garlic

2

wiri wiri peppers

1

orange

2-

inch

chunk fresh ginger

1

cup

cassareep

¼

cup

brown sugar

5

sprigs thyme

2

cinnamon sticks

½

tsp

allspice

4

whole cloves

1

tbsp

cooking oil
Instructions
All ingredients ready? Let's begin!

Place a large pot over medium high heat and add the oil. Allow the oil to heat through. You can check if the oil is hot enough by dropping in a tiny bit of water or flour. If the oil fizzles, it's ready.

Use paper towels to pat dry any excess liquid from the beef. Generously sprinkle the salt and pepper on all sides of beef and use your hands to rub it in.

Add the meat to the pot. If it is too big in one piece, cut it into a few large chunks and do it in batches. Cook for a few minutes on each side or until it is browned all over.

Remove the beef to a plate and set aside.

Peel the onions and slice. Peel and finely dice the garlic.

Keep a thin layer of the beef fat in the pot and use it to cook the onions and garlic for about 5 minutes or until the onions become translucent.

Cut the wiri wiri peppers in half to remove the stem and seeds. Finely dice.

Use a potato peeler to peel the orange. Set the peel aside.

Use a potato peeler or small, sharp knife to peel the skin off of the ginger, then mince or finely dice it.

Place the beef back into the pot. Also add the wiri wiri, orange peel, ginger, cassareep, brown sugar, thyme, cinnamon sticks, allspice, and cloves.

Add water to the pot until it just covers the meat. Turn the heat to high until the liquid comes to a boil, then reduce the heat to medium-low.

Cover the pot with a lid and allow to simmer for roughly 3 hours or until the meat is tender and soft enough to fall apart when prodded.

Remove from heat and carefully remove the springs of thyme, cinnamon sticks, and orange peel. Give it a good stir if possible to make sure all the flavors are evenly dispersed.

Spoon into bowls, serve hot, and enjoy!
Nutrition
Calories:
387
kcal
|
Carbohydrates:
26
g
|
Protein:
37
g
|
Fat:
14
g
|
Saturated Fat:
5
g
|
Polyunsaturated Fat:
1
g
|
Monounsaturated Fat:
7
g
|
Trans Fat:
0.01
g
|
Cholesterol:
105
mg
|
Sodium:
576
mg
|
Potassium:
684
mg
|
Fiber:
2
g
|
Sugar:
10
g
|
Vitamin A:
96
IU
|
Vitamin C:
17
mg
|
Calcium:
70
mg
|
Iron:
5
mg
Notes & Tips
Guyanese pepperpot can be stored in a leak-proof, airtight container in the fridge for roughly 5 days. It can also be frozen for several months, which is great because this recipe makes a large amount. To reheat, thaw in the microwave or on the stovetop.
Serving Suggestions
As yummy as Guyanese pepperpot is, it's best serving alongside something to soak up the juices. My favorite way to eat it is with Guyanese braided bread. The bread soaks up the broth and melts in your mouth beautifully.
Another side dish can be rice, which goes with almost anything. Any rice will work and you can do it two ways. One way is to ladle the stew over rice in a bowl and eat it still as a stew, but with some extra bulk. Another way is to cook some of the liquid over medium-high heat for several minutes until it reduces into a thick sauce. Then you can make a bed of rice on a plate, add beef on top, and drizzle some of the sauce over it. Both methods are just as delicious!
If you're serving pepperpot for a special occasion, why not serve alongside this smoky mezcal paloma cocktail? The drink is refreshing enough to combat the density of pepperpot but spicy enough to fit right in at the table.
Substitutions
In lieu of brisket, you can use any large, boneless chunk of beef, or a combination of several if you have a few random odds sitting around in your freezer. You also don't need to limit yourself to beef! This recipe is very useful for using up assorted ends. That being said, beef is traditional and tougher meats work better for the appropriate consistency. Goat meat also works, but beef is easier to find and more affordable for most people in the US.
Wiri wiri peppers are most commonly used for pepperpot in Guyana, but, if you can't find them, use habanero peppers instead for the same kick.
Where to Find Cassareep
Cassareep is a by-product of the cassava plant that has been cooked to a certain thickness and seasoned with spices. It is commonly used to bulk up dishes due to it being high in calories and carbs.
Cassava is difficult to find in most western supermarkets and cassareep is even more difficult to spot. You are most likely to find it at a speciality shop or online. If you're lucky, your local supermarket might have it in their international food aisle, but your best bet is probably online. It's not too expensive, all things considered, and you can use it in other dishes as well.
While cassareep is crucial to Guyanese pepperpot's aromatic flavor, if you're looking to cook up some soft beef but don't necessarily care about the addition of cassareep, you can try using a dark molasses instead. It is not a direct substitute and it will greatly alter the overall flavor, but it is the closest alternative you are likely to find.
---
Recent Recipes