Is there really such a thing as a Mexican lasagna? Isn't lasagna a distinctively Italian dish? Lasagna is in fact of Italian origin and refers to a layered pasta dish. Old school lasagna was made with pasta, ground meat, fresh pesto, and a bechamel sauce. It is one of my favorite dishes to make and always surprises my guests.
In Northern Italy and here in the states, lasagna is made with the addition of a Bolognese sauce that includes tomatoes and aromatics like onions and garlic. It is often layered with a couple of different cheeses and maybe some green leafy vegetables.
Mexican lasagna is the same concept but it incorporates Latin and southern US ingredients, similar to our Pastelón (Puerto Rican lasagna with plantains) recipe. Though, I am pretty sure this particular lasagna dish is a recipe that was invented just north of the border. I believe it is a Tex-Mex thing. But it is a good invention and pretty easy to assemble and bake. Mexican lasagna is just as much a crowd pleaser as good old-fashioned Italian lasagna. The best part is that the ingredients are easy to source and incredibly affordable.
For this recipe, you will need soft corn tortillas, ground beef, spices, onions, garlic, bell pepper, tomatoes, canned beans, cheese, and chili peppers. I will recommend other ingredients and recipe variations to satisfy your taste buds and dietary needs.
Ground Beef: You can substitute the beef with ground turkey or 2 layers of pan-seared chorizo slices. If you are vegetarian, use more beans. Or, you could prepare sliced cremini mushrooms or diced eggplant that have been sautéed with all the spices that you would add to the beef. You might need additional olive oil for the veggies, as they can soak up a lot.
Tomato Sauce: You can use any color of bell pepper in the sauce. To save a step, substitute prepared and jarred salsa with onions and peppers already in it. 
Kidney Beans: I like the firm texture of kidney beans for this lasagna. Black beans would also be a firm alternative. If you want a softer texture, use pinto beans or even refried beans.
Corn Tortillas: I like sturdy yellow corn tortillas for this dish. You could use soft white corn tortillas or corn & flour combination tortillas. In a pinch, use large tortilla chips. They will soften while baking. You definitely could make this a hybrid lasagna by using lasagna noodles instead of tortillas.
Cheese: You can mix up the cheeses in this recipe. Instead of Monterey jack, try pepper jack. Cheddar can be substituted with Mexican cotija cheese. If you want that traditional stretchy cheese that lasagna is famous for, add mozzarella into the mix. If you are going to make this a vegan meal, there are plenty of good vegan cheeses available.
Additions: Many Mexican lasagna recipes call for frozen corn kernels mixed in with the beef. Others call for a can of Anaheim chilis mixed with the beef. 
Toppings: There are several toppings to take this lasagna to the next level. I recommend sliced black olives, fresh cilantro leaves, guacamole, sour cream, or sriracha for an extra kick.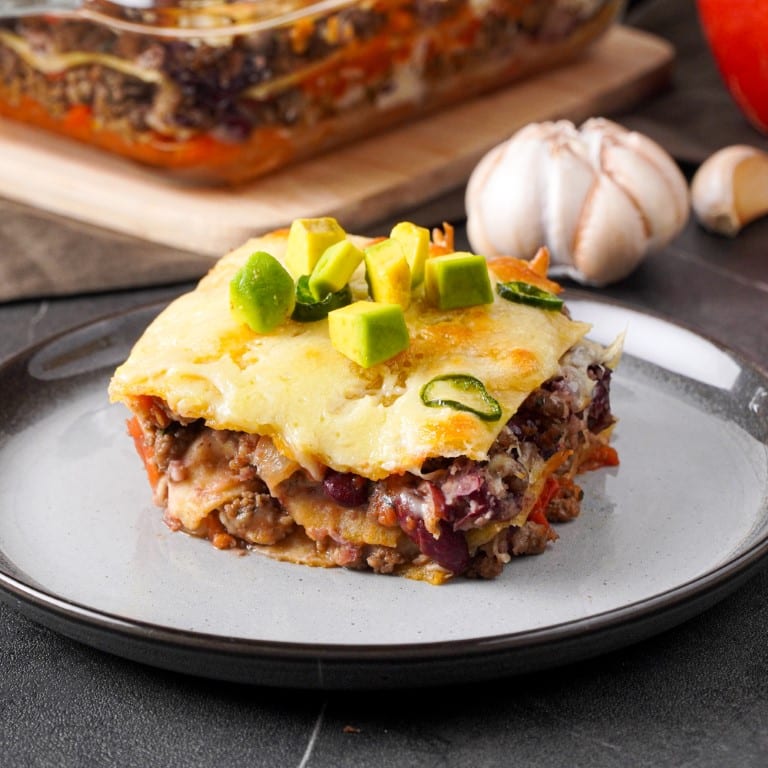 Ingredients
3

Tbsp

extra virgin olive oil

divided

1 ½

pounds

of ground beef

1

Tbsp

chili powder

1

Tbsp

ground cumin

1

Tbsp

dried cilantro leaves

1

tsp

sea salt

¼

tsp

cayenne pepper

more if desired

1

large yellow onion

diced

1

red bell pepper

stem and seeds removed, diced

3

garlic cloves

peeled and minced

1

tsp

dried oregano

1

28-ounce can fire roasted diced tomatoes

12

6-inch corn tortillas

1

14-ounce can of red kidney beans

2

cups

grated Monterey jack cheese

2

cups

grated mild cheddar cheese

1

large jalapeño pepper

seeded and sliced thinly

1

diced avocado for serving
Instructions
All ingredients ready? Let's begin!

In a large skillet over medium-high heat, add 1-1/2 tablespoons of oil. Once the oil is warm, add the ground beef and break it up with a spoon. Add the chili powder, cumin, cilantro, salt, and cayenne on top of the beef. Once the beef starts to brown, stir in the spices. Continue to cook until the beef is browned, approximately 5 minutes.

Using a slotted spoon, transfer the cooked beef to a bowl and set it aside. Wipe out the pan with a paper towel.

Return the pan to the heat. Add another 1-1/2 tablespoons of oil to the pan. Add the onions and bell pepper. Cook until the onions have softened, approximately 3 minutes. Stir in the garlic and oregano and cook for another minute until the garlic is fragrant.

Stir the tomatoes into the onions, peppers, and garlic. Reduce the heat to low and simmer the sauce for about 18 minutes until the liquid has mostly evaporated.

Drain and rinse the beans. Place them on a plate and mash them slightly with a potato masher just to break the skins.

Preheat the oven to 350°F. Lightly oil a 9×13-inch glass or ceramic baking dish.

Place a couple of tablespoons of the tomato sauce on the bottom of the dish and spread it out. Slice the tortillas in half. Place a layer of 4 tortillas (8 halves) in the bottom of the dish with the cut edges facing the perimeter of the rectangular dish.

Place 1/2 of the beans over the tortillas. Add 1/2 of the beef over the bean layer. Place 1/3 of the cheese over the beef. Spoon 1/2 of the tomato sauce evenly over the cheese. Repeat with another layer of tortillas, beans, beef, cheese, and sauce.

Top the lasagna with the remaining 4 tortillas and then the last 1/3 of the cheese. Sprinkle the jalapeno slices over the cheese.

Bake the lasagna for 35 minutes until the cheese has melted and is bubbling hot. Transfer the lasagna dish to your stovetop and allow it to cool and set for 10 to 15 minutes.

Top the lasagna with diced avocado and slice it into squares. Enjoy while it is still warm.
Nutrition
Calories:
668
kcal
|
Carbohydrates:
38
g
|
Protein:
38
g
|
Fat:
42
g
|
Saturated Fat:
17
g
|
Polyunsaturated Fat:
3
g
|
Monounsaturated Fat:
17
g
|
Trans Fat:
1
g
|
Cholesterol:
111
mg
|
Sodium:
745
mg
|
Potassium:
1028
mg
|
Fiber:
10
g
|
Sugar:
5
g
|
Vitamin A:
2200
IU
|
Vitamin C:
41
mg
|
Calcium:
503
mg
|
Iron:
5
mg
More Lasagna Recipes
We have lots of lasagna recipes. Some are traditional and some have a unique spin. We also have lasagnas that address specific dietary preferences and needs. Here are just a few to try.
---
Recent Recipes