Sweet Namibian fat cakes are traditionally South African deep-fried dough balls. Common names for this sweet and savory fried dough include vetkoek and Amagwinya.
Fat cakes are usually served as a main course for lunch or dinner, but they taste fantastic as breakfast. It is pretty versatile so that you can relish it with sweet (honey or jam) or savory (chicken or beef) fillings.
Sweet Namibian fat cakes are similar to the Dutch oliebollen. In the early 1800s, Dutch immigrants from Cape Town started frying these dough balls because it was easier and faster to cook than ordinary bread.
Since then, people in South Africa have become accustomed to frying 'vetkoek' and consider it a staple food in their household. It does not take plenty of time to prep or cook, and the ingredients (you probably have them already) are inexpensive.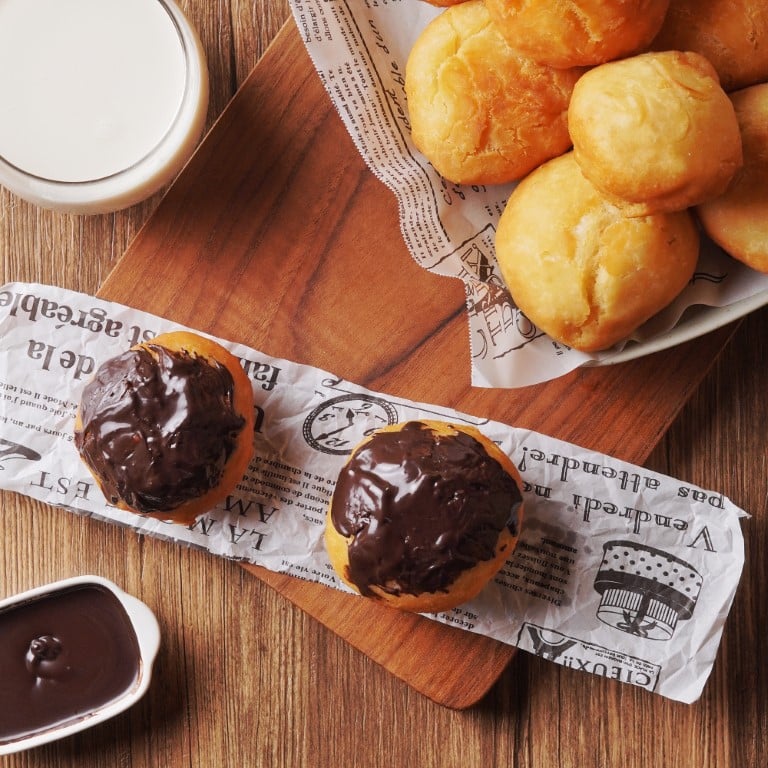 Ingredients
1

packet yeast

0.25 oz.

3

cups

self-raising flour

24 oz.

½

cup

sugar

4 oz.

2

teaspoons

salt

3

cups

oil for frying

24 oz.

2

cups

lukewarm water

16 oz.
Instructions
All ingredients ready? Let's begin!

Add the sugar and yeast to lukewarm water in a mixing bowl.

Allow the yeast to soften (usually takes about 5 minutes). Once the yeast produces bubbles, you are ready to move to the next step.

Sieve the self-raising flour and salt in a large mixing bowl. Pour the yeast mixture into the flour and salt mixture.

Knead and blend the dough mixture until soft and smooth (about 5-10 minutes).

Place a cloth over the dough and remove it once it has doubled in size. It can take about 45 minutes to 1 hour.

Scoop about a handful of the dough.

Roll it on a floured surface until smooth.

Flatten the dough and repeat the actions with the rest of the dough.

Heat the oil in a frying pan, deep-fryer, or a big saucepan to 350°F.

Fry dough until golden brown on the two sides (at least 2 minutes per side). If the pans are large, you can fry 2-5 pieces at once.
Nutrition
Calories:
642
kcal
|
Carbohydrates:
31
g
|
Protein:
4
g
|
Fat:
57
g
|
Saturated Fat:
4
g
|
Polyunsaturated Fat:
16
g
|
Monounsaturated Fat:
36
g
|
Trans Fat:
0.2
g
|
Sodium:
391
mg
|
Potassium:
37
mg
|
Fiber:
1
g
|
Sugar:
8
g
|
Vitamin A:
1
IU
|
Vitamin C:
0.002
mg
|
Calcium:
6
mg
|
Iron:
0.3
mg
Notes & Tips
The Poke Test: To find out when the dough is ready to be fried, you can do a simple test. Poke the ball of dough with your finger to check if the indentation fills back swiftly. If so, the dough is ready to be fried!
The Windowpane Test: Take off a piece of the dough (about a golf ball-sized) and stretch it between your fingers.
If the dough does not break and stretch into a thin sheet, then you can continue. However, if it splits, it is necessary to continue kneading the dough.
While kneading the dough, you might need to add water or flour, so the consistency of the dough is much like bread dough.
Grease your hands before kneading, so the dough will not stick on them. The easiest way to grease your hands is by patting them with flour.
This only seems to work for a few seconds until your hands are dry. Thus, I use a small amount of oil and rub it all over my hands. I much prefer using this method.
If you want more precise-shaped fat cakes, I suggest using a deep serving spoon or an ice cream scoop.
Common Questions About Sweet Namibian Fat Cakes
Have a look at the answers to a few common questions about reheating and freezing fat cakes:
Can You Freeze And Reheat Sweet Namibian Fat Cakes?
Fat cakes are scrumptious, so I always leave a few pieces for breakfast, lunch, or dinner. That being said, you can surely reheat leftover sweet Namibian fat cakes or freeze them if you would like to store them for longer.
How To Freeze Sweet Namibian Fat Cakes? 
I suggest freezing the fat cakes as soon as it has cooled down. Place it in zip-lock bags in the freezer. You can keep it frozen for up to a month.
How To Reheat Sweet Namibian Fat Cakes? 
The best method to reheat fat cakes is in the microwave. You can place the fat cakes on a plate or a layer of paper towels. Reheat it in the microwave for about 30 seconds or until warm. Serve with the filling or sides of your choice. Ensure that the fat cakes are warm and not extremely hot!
How To Store Sweet Namibian Fat Cakes?
It is safe to store the fat cakes in a container or glass dish overnight. It is not necessary to place the fat cakes in the refrigerator because they will most likely become stiff; therefore, I keep them on the counter. 

Make sure that you tightly cover the container with its lid or cloth; otherwise, the fat cakes will turn stale or dry. Imagine spending all your time making sweet Namibian fat cakes, only for them to turn chewy and inedible the next day. 
Why Is My Sweet Namibian Fat Cakes Raw Inside? 
If the fat cakes are raw inside, it is likely due to the frying oil being too hot, or you did not fry them long enough (at least 2 minutes per side). When the oil is too hot, it will only blacken the outside of the fat cakes and leave the inside doughy and raw. Your fat cakes should be golden-brown, much like doughnuts or baked bread. 

Eating doughy fat cakes is not safe because the dough mixture contains flour. The grains that flour is made of are sprouted outdoors, which means that flour is raw food. Foods grown outside carry harmful bacteria like Salmonella and E. coli. 
Sides or Compliments
Sweet Namibian fat cakes can be served with almost anything! You can spread jam, honey, syrup, peanut butter, or even Nutella on them and enjoy it for breakfast or make a delicious vegetable curry ground meat to put on the fat cakes for supper.
I enjoy ham topped with sliced or grated cheese on my fat cakes because it compliments the sweet and savory taste so well. Here are more ideas you can try:
Egg and bacon filling
Chicken and mayonnaise filling
Avocado, cheese, ham, and lettuce filling
Eat with warm soup
---
Recent Recipes