Simple Ghana Style Jollof Rice
Jollof rice is a West African dish where the rice is cooked in a tomato-based stew. Ghanaian Jollof rice is characterized by its gorgeous red orangy color and uses basmati rice which results in a fluffy and heavenly rice dish. It's full of spices and aromatics and is cooked over low heat to bring out all of the flavors. 
In this recipe, you'll learn how Ghana jollof rice is prepared, where it originated from, and what differentiates Ghanaian Jollof from Nigerian Jollof. Now, get your ingredients ready, and let's make the best Ghana Jollof!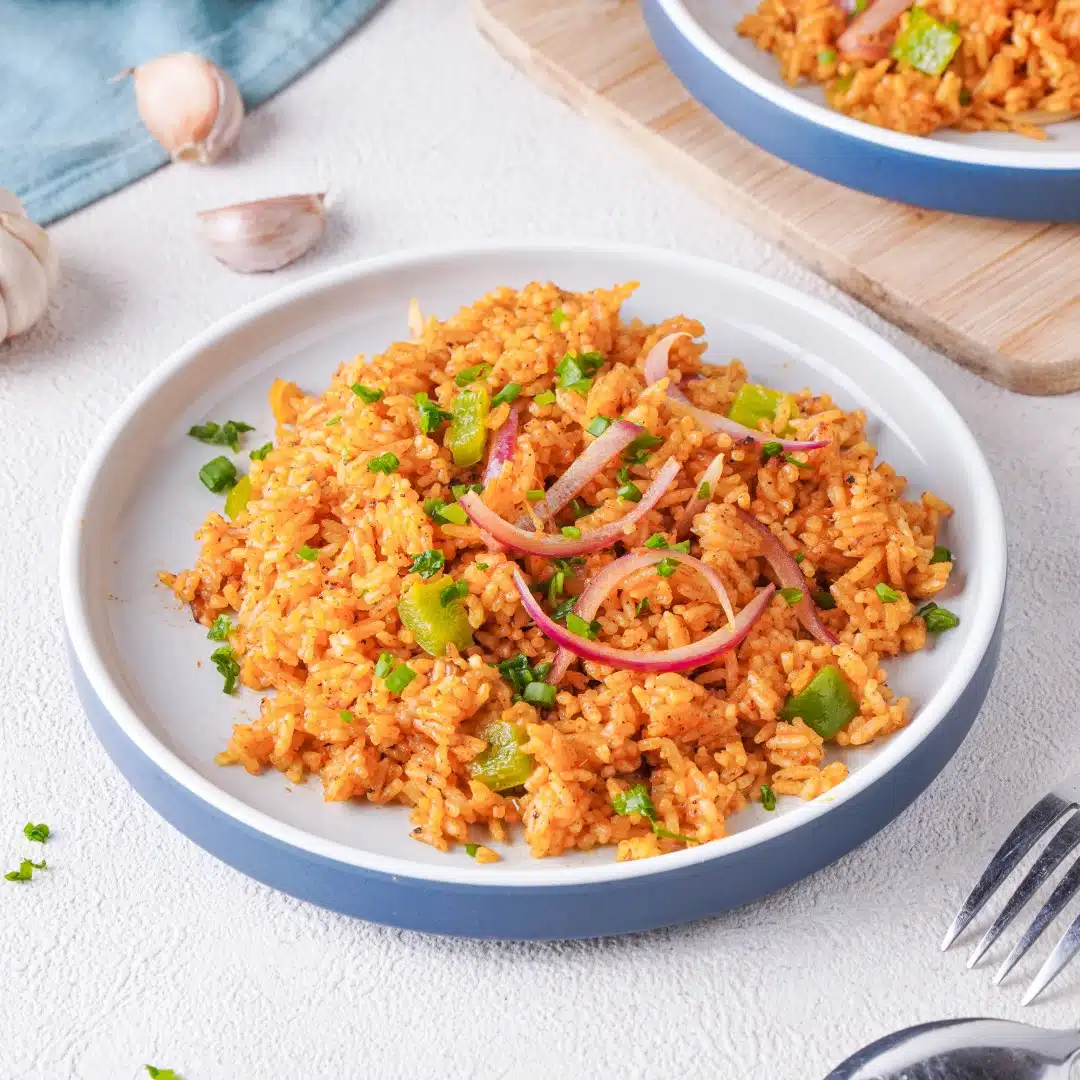 Ingredients
6

cups

of basmati rice

5

cups

water

15

oz.

crushed tomatoes

or 5 medium tomatoes

7

oz.

tomato paste

1

purple onion

1

golden onion

3

shallots

1

habanero pepper

optional

1

green bell pepper

2

thumbs of ginger

6

cloves

of garlic

1

tsp.

coriander seeds

1

tsp.

aniseeds

1

tsp.

dried rosemary

1

shrimp cube

1

Tbsp.

curry

1

Tbsp.

nutmeg powder

1

tsp.

cardamom pods

3

bay leaves

½

cup

vegetable oil

1

Tbsp.

of salt or to taste

2

Tbsp.

ghee or butter

Minced spring onions to garnish
Instructions
All ingredients ready? Let's begin!

Blend the golden onion, 2 shallots, garlic, coriander seeds, aniseeds, ginger, and optional habanero pepper in a blender with a bit of water.

Add half of the oil to a large saucepan and cook the mixture on medium-high heat until it's reduced and caramelized.

Blend the crushed tomatoes or fresh tomatoes, and add them to the pan, turn down the heat to medium-low and simmer until it becomes a thick paste. Remove the mixture from the pan.

Add the other half of the oil to the same saucepan, chop half of the purple onion and remaining shallot and fry until golden.

Add nutmeg, curry powder, and bouillon cube and sauté until fragrant.

Stir in the reduced tomato sauce and cook for about 2 minutes. Then add tomato paste and stir until everything is evenly combined and cooked down, stirring often, for about 20 minutes. Add bay leaves towards the end. The stew should be thick and a beautiful rich burgundy.

Wash the rice thoroughly and add it to the stew. Stir, letting the rice toast for about 5 minutes (all the moisture should be dried out). Then add the water and salt. Taste and add more bouillon or salt as needed. Stir, turn the heat down to low, cover, and let cook for 15 minutes, checking on it every 5 minutes to make sure the rice is not burning. After 15 minutes, give it a toss with a wooden spoon to make sure it's not sticking to the bottom, stir in the ghee, cover and cook for another 10 minutes.

Now stir in the other half of the purple onion sliced into pieces, and the green pepper cut into chunks.

Turn the heat off, cover the rice with aluminum or parchment paper, put the lid on, and let it soak up the moisture from the vegetables.

Check on it in 10 minutes, and your jollof rice should be perfectly done. Garnish with spring onions and enjoy!
Nutrition
Calories:
496
kcal
|
Carbohydrates:
86
g
|
Protein:
9
g
|
Fat:
13
g
|
Saturated Fat:
4
g
|
Polyunsaturated Fat:
6
g
|
Monounsaturated Fat:
3
g
|
Trans Fat:
0.1
g
|
Cholesterol:
7
mg
|
Sodium:
671
mg
|
Potassium:
485
mg
|
Fiber:
4
g
|
Sugar:
6
g
|
Vitamin A:
609
IU
|
Vitamin C:
19
mg
|
Calcium:
77
mg
|
Iron:
2
mg
Notes & Tips
Once you've added the water to the rice, don't stir too much, otherwise, you could break the grains of rice. Also, make sure you turn the heat down low. 
If you're using an induction stove, it's better to switch to another burner to cook the rice on low heat. You want to be very careful not to burn the rice because trust me, it's easy to do.
Add just enough water for the rice to be covered. You can always add a little more later if the rice dries out too much. But remember you're going to finish cooking the rice with steam and the moisture of the bell pepper and onion.
Jollof rice is cooked with steam, so make sure to stir it after 15-20 minutes of cooking to let the steam move around and loosen the rice. It's best to use a wooden spoon for this step.
Also, wash your rice thoroughly. Pour it into a strainer and let it run under cold water, stirring constantly until the water runs clear. This removes all the unnecessary starch to ensure the rice won't stick together and get mushy. It also improves its flavor.
Remember to always simmer the stew at a low temperature to bring out the flavors and avoid burning. This will also prevent the stew from splattering.
If you're using fresh tomatoes, drain the juice before blending them. This will reduce the cooking time so that you can get a rich stew faster.
Serving Suggestions & Substitutions
This simple Ghana-style jollof rice is perfect as a side dish. Serve it with chicken, beef tenderloin, fish, or your favorite protein of choice. Finish off with a fresh vegetable salad or some kimchi and you've got a satisfying and delicious meal.
Traditionally, Ghanaian Jollof rice is cooked with goat or chicken meat and served with Ghanaian salad. But it takes at least an extra hour to cook if you're adding meat. This simple stockless version of jollof rice is faster, and it's still a delight for your taste buds.
This is already a vegetarian Jollof recipe, but if you want to make it vegan, it's simple. Just omit the ghee or butter, and use vegan bouillon cubes instead of shrimp cubes. Serve it with some crispy chickpea tenders for an ultimate vegan feast.
As for the spices, you can always modify them to suit your preferences and add more or less salt. Jollof rice is usually made with shrimp cubes, but chicken bouillon or beef bouillon would work as well.
Where Did Jollof Rice Originate From?
Ghanaians and Nigerians have been battling over who makes the best Jollof rice for years. And, although they are the ones to have popularized this local dish around the world, the funny thing is neither of them was the original inventors.
Jollof rice is believed to have originated in Senegal and the Gambia where the Wolof people (you can hear the resemblance here) of that region invented this dish. Particularly a woman from this tribe came up with this dish while substituting their usual barley for rice due to a barley shortage.
Ghanaian Jollof Vs. Nigerian Jollof
The main difference between Ghanaian and Nigerian Jollof is the type of rice grain used. Nigerians use long grain parboiled rice which is parboiled and washed a second time to remove the starch.
Also, Nigerians have trademarked "Party Jollof rice" which is legendary for its smoky flavor. This version is cooked over a wood fire and burnt at the bottom to get that smoky flavor.
Ghanaian Jollof is traditionally spicier because they use Scotch Bonnet peppers. But I find habanero is already hot enough.
Can You Make Jollof Rice With Jasmine Rice?
The short answer is yes. Jasmine rice, also known as Thai fragrant rice, is similar to basmati rice. Both are of the long grain variety, which means they cook up fluffy and not very sticky. The difference is that Jasmine rice is plumper, softer, and thus, can get a bit stickier.
So, if you don't have basmati or if you prefer your rice to be a little stickier, go ahead and use Jasmine rice.
---
Recent Recipes