There are two kinds of people in the world, those who love fermented foods and those who don't. If you are someone who appreciates the crunchy tang of pickled veggies, then there is nothing quite as satisfying as making them yourself. This recipe for Quick Kohlrabi Pickles is an easy and delicious way to start your fermented vegetables journey at home.
What Are Kohlrabis?
Most folks hear the word 'pickle,' and they immediately have a picture in their minds of cucumbers bobbing around in a salty brine. But pickled cucumbers are just one type of pickled food, and honestly, they're not even the tastiest!
This kohlrabi pickle recipe is dead simple to make, and it's perfect for the first-time fermenter. If you never tried or even heard of kohlrabis before, you don't know what you are missing!
Kohlrabis are baseball-sized relatives of the cabbage. You can find purple and green (sometimes called white) varieties at the market, and they both have a taste similar to cabbage with a slight kick of turnip-like spiciness. The kohlrabis' firm texture allows them to stand up to pickling and still remain crunchy.
Change the Flavor Profile to Suit You
This recipe makes Asian-inspired quick kohlrabi pickles, but that's just one of the directions you can go with it. For a more traditional quick pickle taste, leave out the ginger, chilies, lemon peel, and substitute a bay leaf, two to three sprigs of dill, and a teaspoon of mustard seeds. If you already have a favorite quick pickling recipe, try using it for pickling kohlrabi, and leave a comment about how it turned out!
You don't have to change the entire recipe to get creative. Making minor modifications can have a big effect on the taste of the pickles. For example, try adding a few sliced carrots or onions to the brine or using a teaspoon or two of gochugaru (Korean chili pepper powder) instead of the crushed dried chiles. While most people choose to pickle green kohlrabi, pickled purple kohlrabi tastes even better. Just be aware that the brine, and anything else in the brine, will turn out purplish. If you want to serve with other pickled vegetables, you may want to pickle the purple kohlrabi separately.
Preparing Kohlrabi For Pickling
Despite looking like a root vegetable, kohlrabis don't grow underground. However, they still need a good rinse under running water before using. If your kohlrabis still have their stems attached, cut them off. These stems are a little bit bitter, and you can either throw them away or save them in a plastic bag in the fridge to cook like Swiss chard.
Dry off the trimmed kohlrabi bulbs with a clean cloth, and then use your fingers to peel off the loose outer layers of leaves. Make sure to remove any damaged leaves. Chop the bulbs in half through the root-end and check for any brown spots or softness. If you notice either, use a knife to cut it away.
Cut each half of the kohlrabis through the root end and then slice them into quarter-inch thick triangles.
The Need For Cleanliness
When making any quick pickles, preventing harmful bacteria into the fermentation process is essential. That means that you want to make sure that everything that comes in contact with the food is clean. While you don't have to go to the lengths of sterilizing as you do for canning, at least run the jars, lids, and utensils through the dishwasher before cooking.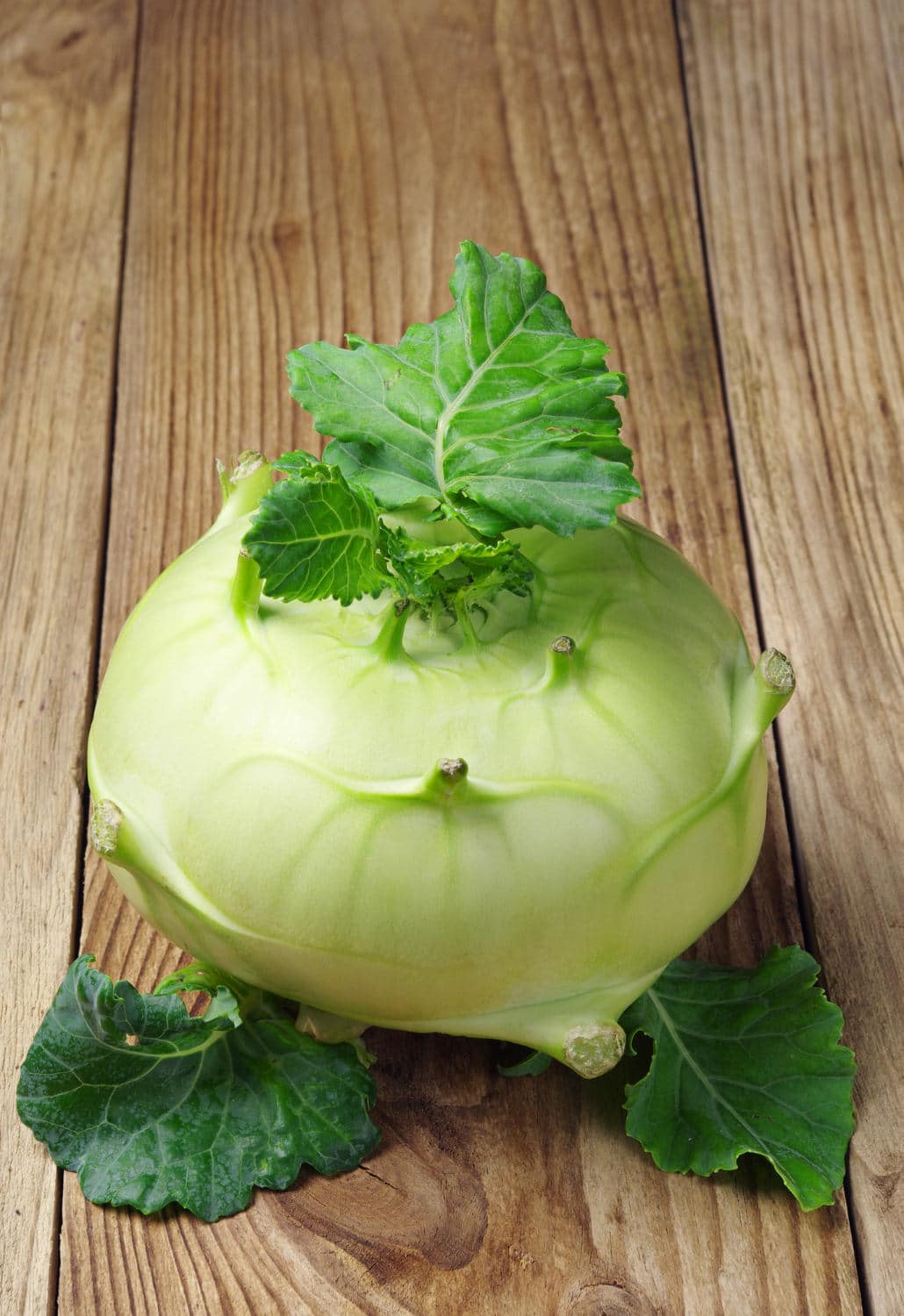 Ingredients
3

pounds

kohlrabi

prepared as described in the notes above (green

1

tablespoon

table salt

because the pickling process is so quick, don't be concerned about the iodine discoloring the kohlrabi

1-2

dried hot chiles

crushed

1

and a half-inch piece of ginger

peeled and roughly chopped (you can Julianne or neatly slice the ginger if you plan on serving the ginger along with the pickled kohlrabi)

5

large garlic cloves

peeled and roughly chopped

4

tablespoons

sugar

taste the raw kohlrabi, and adjust the amount of sugar according to its sweetness

1

tablespoon

whole allspice berries

lightly crushed

peel of one organic lemon

cut into long strips (even organic lemons can have wax on their skin, so give the lemon a good scrub before using)

2

cups

rice vinegar

you can use apple cider or white vinegar as an alternative

2

cups

water

filtered or bottled
Instructions
In a large mixing bowl, use your hands to coat the kohlrabi slices with salt. If you are using other vegetables, throw them into the bowl as well. The salt helps draw out some of the liquid from the vegetables and is a crucial step, so take your time.

Transfer the salted vegetables to a colander in your sink. Let the vegetables drain for about an hour or until there is no more liquid dripping. Give the vegetables a few tosses every 15 minutes or so.

Shake the colander to get rid of any trapped water, and layer the kohlrabi slices in quart jars. Sprinkle some crushed red chili pepper between each layer. Make sure the layered kohlrabi slices are about an inch below the mouth of the jar.

Add the water, vinegar, ginger, garlic, allspice, and lemon peel to a small saucepan and bring to a boil over medium-high heat.

After reaching a boil, remove the pickling mixture from heat and carefully pour over the sliced kohlrabi in the jars. Divide the ginger, garlic, and lemon peel evenly amongst the jars. Make sure to cover everything with the pickling liquid. If you have pickling weights, use them to keep everything below the surface.

Once the liquid is cool, cover with a clean lid and put in the fridge. You can start enjoying your Quick Kohlrabi Pickles after three days, and they will stay fresh for up to a month in the refrigerator.
Nutrition
Calories:
709
kcal
|
Carbohydrates:
148
g
|
Protein:
25
g
|
Fat:
2
g
|
Saturated Fat:
1
g
|
Polyunsaturated Fat:
1
g
|
Monounsaturated Fat:
1
g
|
Sodium:
7296
mg
|
Potassium:
5082
mg
|
Fiber:
52
g
|
Sugar:
86
g
|
Vitamin A:
957
IU
|
Vitamin C:
916
mg
|
Calcium:
457
mg
|
Iron:
7
mg
---
Recent Recipes